Ukraine is the world's largest country that is totally contained within Europe. The country is located on the southwestern edge of the Russian Plain and has mostly flat topography. The land's average elevation is only 574 feet (175 m).
According to the geographical geography of Ukraine shown above, around 5% of the nation is mountainous. The Carpathian Mountains' northern reaches span throughout western Ukraine. Hoverla Mountain, at 2061 m (6762 ft), is the highest point in the country. A yellow upright triangle has been drawn on the map above to represent it.
The southern lowland of Ukraine continues into the Crimean Peninsula, a peninsula projecting into the sea from southern Ukraine via the Perekop Isthmus, as shown on the map above. It is contested territory.

The Crimean Mountains run along the southern boundary of the Crimean Peninsula, and some lower, highly eroded peaks continue into Russia just north of the Sea of Azov.

Much of central Ukraine is made up of plateaus and fertile plains (steppes), as well as steep meadows and shrublands.

The Black Sea Coastal Lowlands go along the country's southern border.

Ukraine is surrounded by the Black Sea and the Sea of Azov.
The Desna, Dnieper, Dniester, Donets, and Southern Bug are among the major rivers. There are several waterfalls in both the Carpathian and Crimean Mountains.

The Dnieper River, one of Europe's major rivers (fourth in length), flows from Russia to the Black Sea via Belarus and Ukraine. The river has a total length of 2,285 kilometers (1,420 mi).
Provinces Of Ukraine Map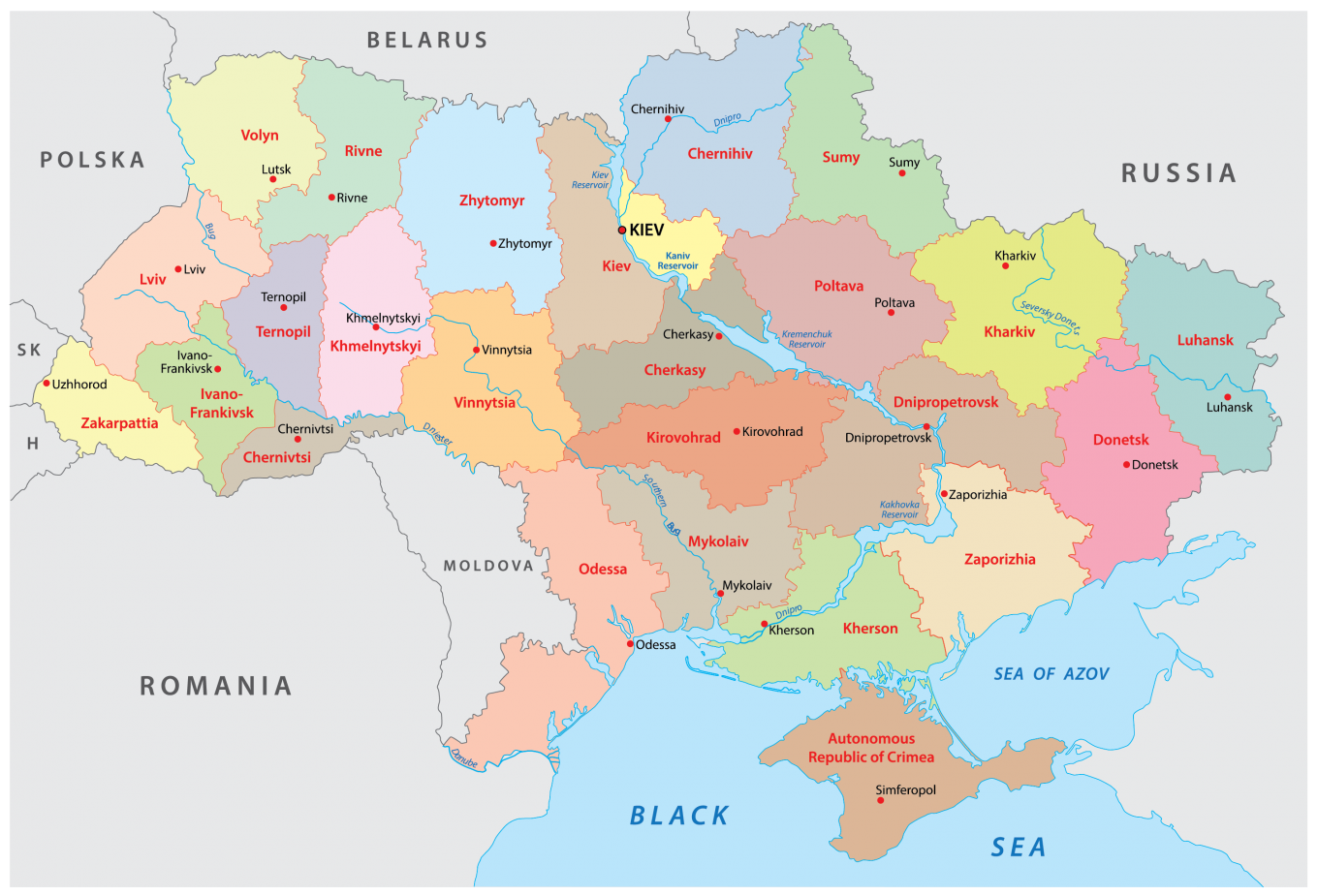 Ukraine is divided into 24 oblasts, one autonomous republic (avtonomna respublika), and two municipalities (mista). These provinces are listed alphabetically as follows: Cherkasy, Chernihiv, Chernivtsi, Dnipropetrovs'k (Dnipro), Donets'k, Ivano-Frankivs'k, Kharkiv, Kherson, Khmel'nyts'kyy, Kirovohrad (Kropyvnyts'kyy), Kyiv, Luhans'k, L'viv Crimea, also known as Avtonomna Respublika Krym (Simferopol'), is a self-governing republic. Kyiv (Kiev) and Sevastopol' are both special-status municipalities. The 24 oblasts and Crimea are subdivided further into 136 raions (districts) and city municipalities.
Ukraine is a country in Eastern Europe. It can be found in both the Northern and Eastern hemispheres of the world. Ukraine is bounded by seven European countries: Belarus to the north, Hungary, Slovakia, and Poland to the west, Moldova and Romania to the southwest, and Russia to the east and northeast. In the south, it is flanked by the Black Sea and the Sea of Azov. To the south, the Autonomous Republic of Crimea borders Ukraine.
Ukraine Bordering Countries: Russia, Hungary, Romania, Moldova, Slovakia, Belarus, Poland.