Air defense forces destroyed 11 out of 15 Shaheds that attacked Ukraine at night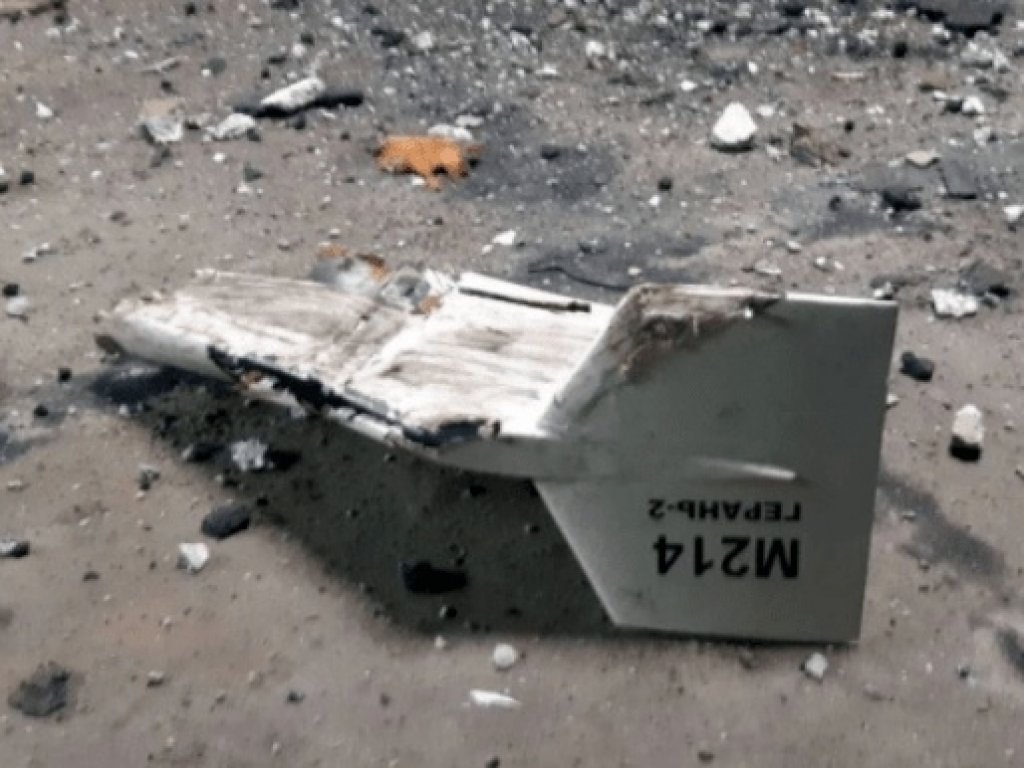 Updated: July 12 2023 at 10:43 am
Source: Air Force of the Armed Forces of Ukraine
Air defense forces shot down 11 out of 15 Russian attack drones that were involved in the attack on Ukraine on the night of July 12.
Source: Air Force of the Armed Forces of Ukraine in Telegram
Literally: "On the night of July 12, the Russian invaders attacked Ukraine from the north-eastern direction (Kursk) with Iranian-made Shahed-136/131 attack drones."
A total of 15 kamikaze drones were involved in the strike. 11 of them were destroyed in the areas of responsibility of the Central and Eastern Air Commands.
Details: Anti-aircraft missile units, fighter aircraft, mobile fire groups of the Air Force and air defense of other components of the Defense Forces of Ukraine were involved in repelling the drone attack.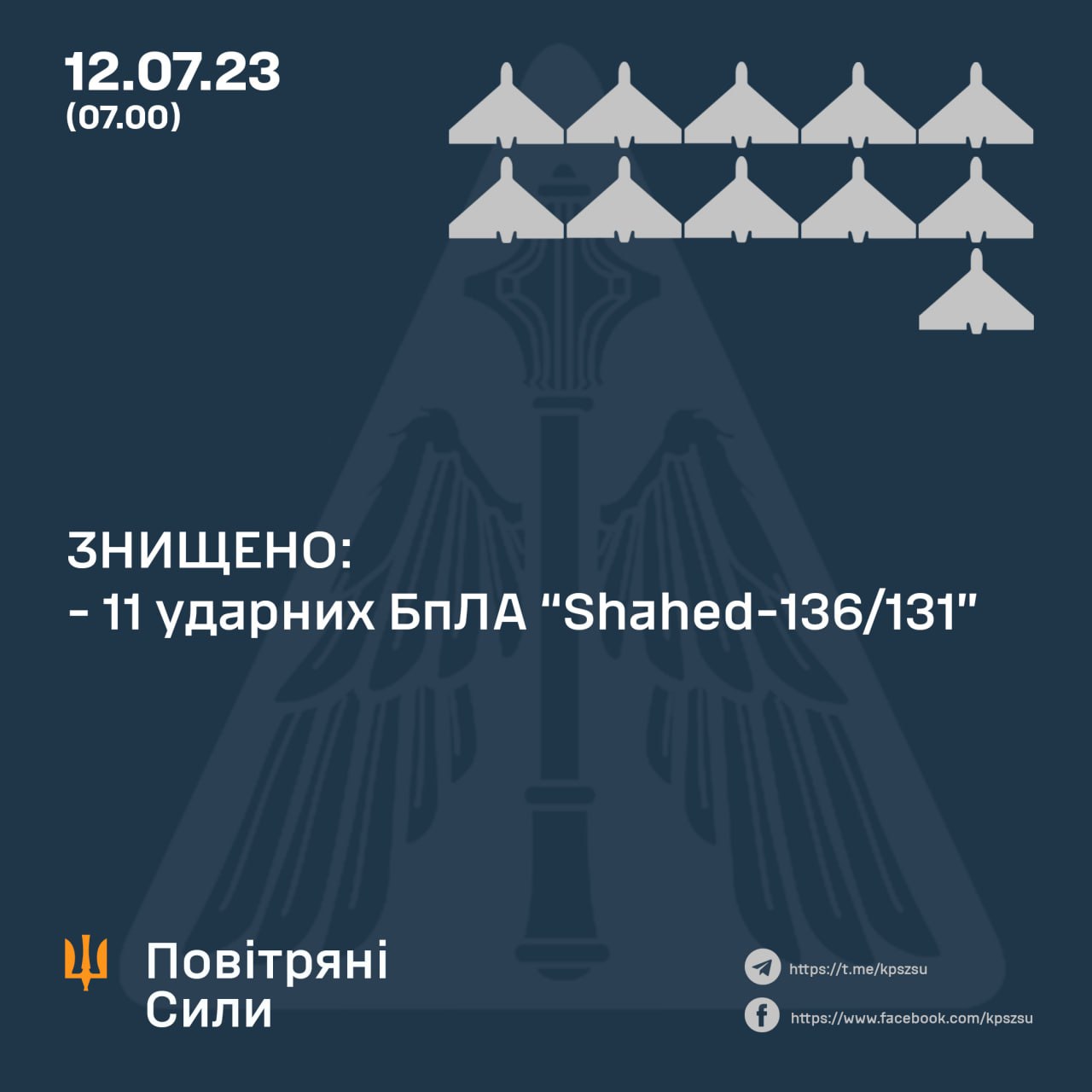 The Air Force also reported that during the current and past days, the Ukrainian aviation has carried out almost 30 group strikes against the enemy's rear, military equipment, positions and accumulation of manpower.
Night attack by drones on Kyiv: air defense destroyed all enemy drones around the capital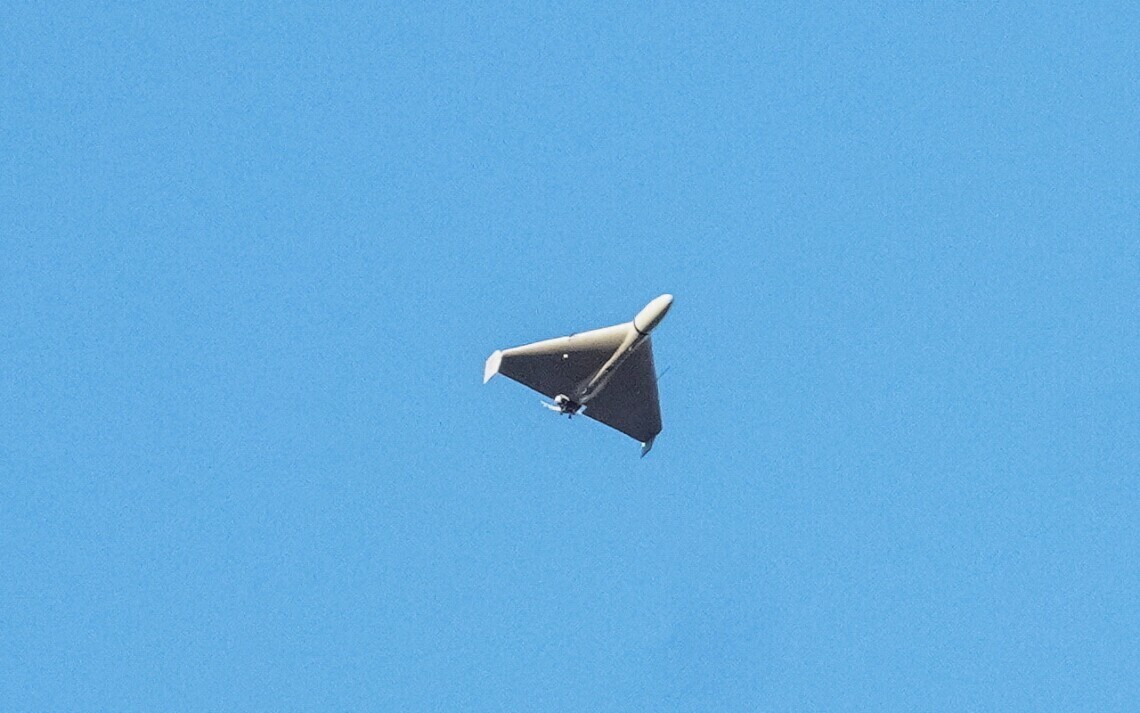 Air defense forces shot down all Russian attack drones of the "Shahed" type, which were recorded on the night of July 12 in the airspace around Kyiv.
The Kyiv City Military Administration reports this in Telegram.
"The enemy launched another air attack on the capital. This time, according to preliminary information, he again used barrage ammunition of the Shahed type. After a break of more than a week, the enemy launched Iranian drones over Kyiv for the second day in a row. The air alert lasted for more than 2 hours ," the KMVA said in a statement.
As noted, all enemy targets in the airspace around Kyiv were detected and destroyed by air defense forces.
The KMVA specified that no information about victims or destruction has been received so far, the data of the operational summary is being updated and clarified.
Read also:
The losses of the invaders are approaching 250 thousand soldiers - data from the General Staff
How Russia hit high-rise residential buildings in Ukraine this year
Ukraine stopped one step away from the "bronze" at the Fencing Championship in women's team saber
Explosions in Moscow: the Ministry of Defense of the Russian Federation commented on the night attack by drones
The Armed Forces of Ukraine destroyed the Strela-10 enemy air defense system near Bakhmut (VIDEO)
Ukrainian defenders eliminated the Russian top colonel Yevgeny Vashunin, who commanded the "Leningrad Regiment"
China secretly sold drones to Russia for more than $100 million - Politico