War Between Ukraine and Russia 2022. Day 59th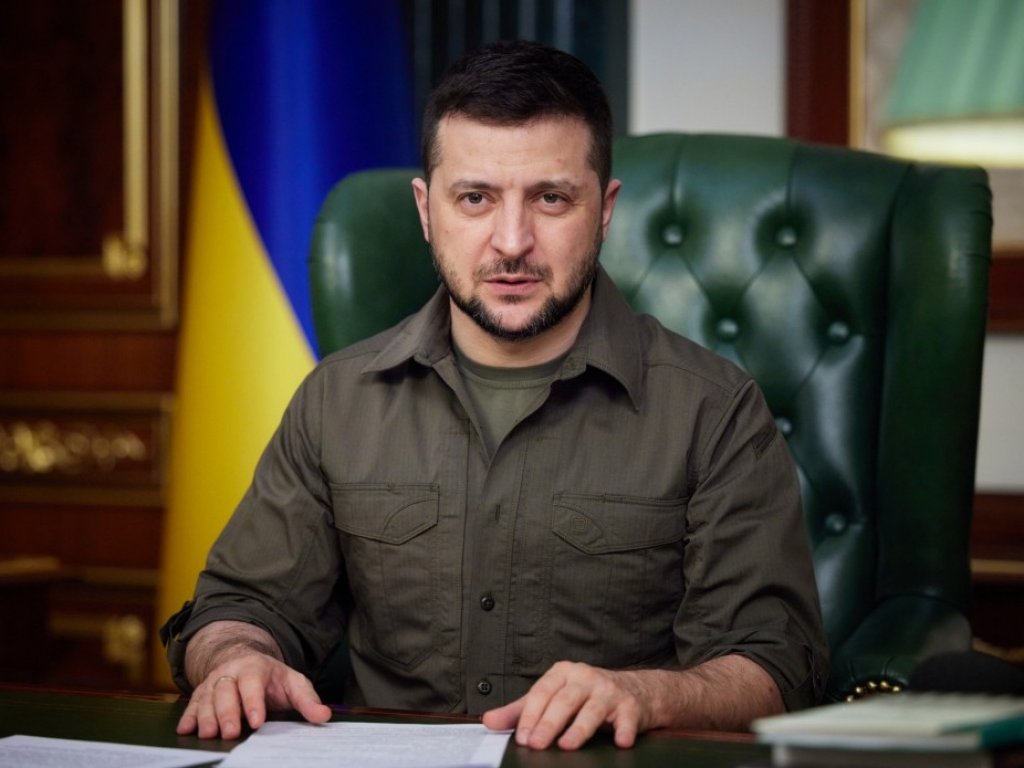 Russia continue the second stage of warfare with an offensive in Donbas. Yet, there are no major advances so far. As Ukraine and Russia exchange control over minor settlements, the world's countries step up in slowly but surely increasing military aid supplies to Ukraine. Mariupol remains in a dire situation where thousands of civilians and servicemen are locked in the siege of the Azovstal steel plant
Brief facts:
The United States will provide Ukraine with additional direct financial aid in the amount of $500 million
Shmyhal invites International Finance Corporation to help rebuild Ukrainian cities
Army kills up to 130 Russian invaders in eastern Ukraine in past day
The Kremlin's 'second phase' goal is to take over southern Ukraine and Donbas
Bombing, execution and torture: UN says evidence of Russian war crimes growing
Side note: news are marked in accordance with the Kyiv time zone: Eastern European Time (EET), GMT/UTC+2
Last News
10:43 Daily update on registered investigations on Russian military's war crimes: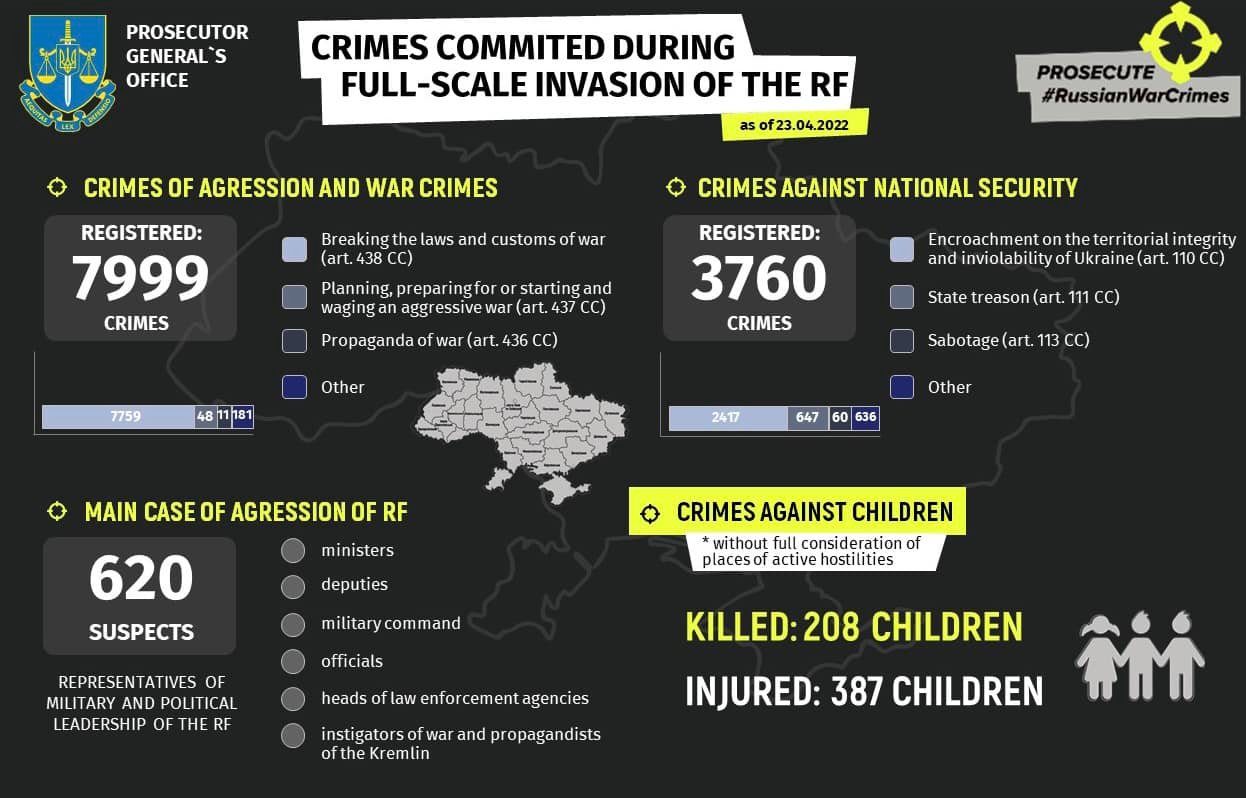 10:19 General Staff released an update on Russian combat losses from 24.02 to 23.04 (approx.):
Personnel – about 21600 people
Tanks ‒ 854 units
Armored Personnel Vehicles ‒ 2205 units
Artillery systems – 403 units
Multiple Launch Rocket Systems – 143 units
Anti-aircraft warfare systems – 69 units
Aircraft / helicopters – 177 / 154 units
Vehicles – 1543 units
Boats / cutters – 8 units
Fuel tanks – 76 units
UAV operational-tactical level – 182 units
Special equipment – 27 units
Mobile SRBM system – 4 units
09:55 General Staff: operational information regarding the Russian invasion as of 06:00, 23.04.2022. Key points of the report:
The greatest activity of Russians is observed in Slobozhansky and Donetsk directions (Eastern Ukraine). Units of Russian occupiers are regrouping.
In the northeast, the occupiers are carrying out reconnaissance using UAVs. There is a threat of "false flag" provocations by Russian forces in Glushkovo, Russia, at the Ukraine-Russia border.
The occupiers have deployed an S-300VM battery to bolster their air defense near the city of Skadovsk, Southern Ukraine. They try to create favorable conditions for advance
There are indications that units of the 64th Independent Motorized Rifle Brigade, which took an active part in the mass killings, torture and rape of civilians in Bucha city, are now operating in the area of Izyum and have already suffered casualties.
Russian private military company "Wagner" has trained up to 200 people to replenish the reserves. The advanced group of the mercenaries was transferred to the Novobakhmutivka district to reconnoiter the area and clarify the order of actions. The information is being clarified.
09:12 Canada Delivered M777 Howitzers and Carl Gustaf missiles in military aid to Ukraine
"The M777 lightweight 155-mm towed howitzer is lighter and smaller, yet more powerful than any gun of its kind," the National Defence department wrote in a statement. "The M777 provides indirect firepower capable of accurately hitting targets at a range of distances up to 30km."
In addition to the howitzers, Canada provided more ammunition for Carl Gustaf ATGMs.
More details in the story from Defense Express: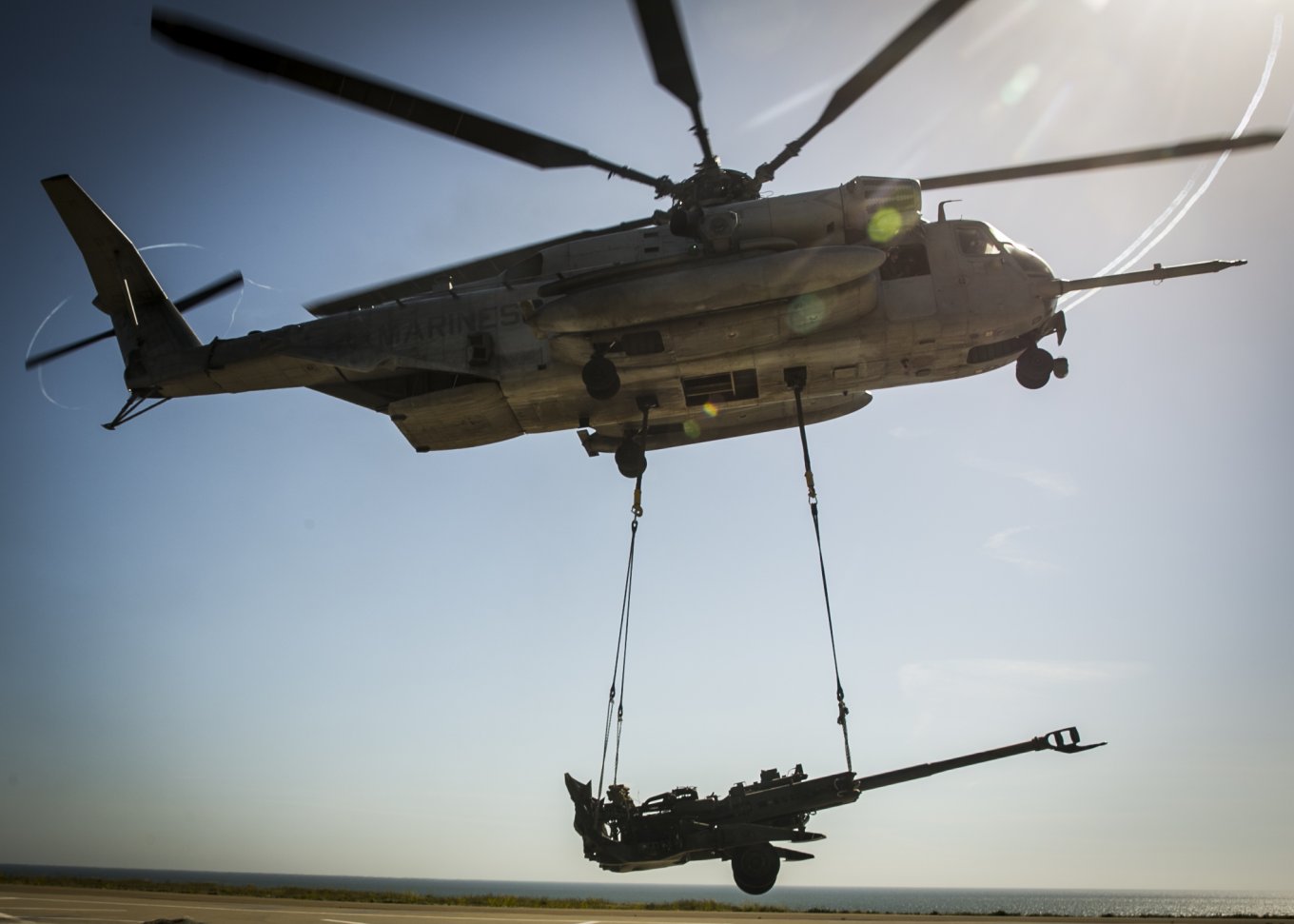 07:14 SSSCIP of Ukraine has revealed the list of five hackers groups that attack Ukraine on cyberfront
State Service of Special Communications and Information Protection of Ukraine reports 802 cyberattacks on critical infrastructure in the first quarter of the year 2022. For comparison, last year, during the same period 362 attacks were detected.
Together with the state cybersecurity company CERT-UA, SSSCIP outlined five key hacking groups connected mostly with Russia or Belarus:
UAC-0010 aka Armageddon (GammaLoad, GammaDrop, HarvesterX): the so-called advanced persistent threat (APT) group of the FSB of the Russian Federation
UAC-0041 (AgentTesla, XLoader): hacktivists from Russia
UAC-0056 (Pandora hVNC, RemoteUtilities, GrimPlant, GraphSteel): Russian hacktivists-cyberspies
UAC-0051 a.k,a, UNC1151: another APT-group with links to Belarus
UAC-0028 a.k.a. APT28: APT-угрупування, яке пов'язують із ГРУ рф. APT-group connected with Russian intelligence
SSSCIP believes there is close contact and information sharing between those hackers and Russian intelligence.
05:30 Spain provided 200 tons of ammunition and dozens of vehicles to Ukraine
"I want to announce that a new batch of weapons has been sent to Ukraine. Spanish ship Isabel, which today departed from a Spanish port for Poland, carries 200 tonnes of ammunition and other materials, 30 trucks loaded with military supplies, and 20 armored vehicles," said Pedro Sanchez, the Prime Minister of Spain following the meeting with his Dutch counterpart Mette Frederiksen and Ukrainian President Volodymyr Zelensky in Kyiv, Ukrinform reports.
More details in Defense Express coverage: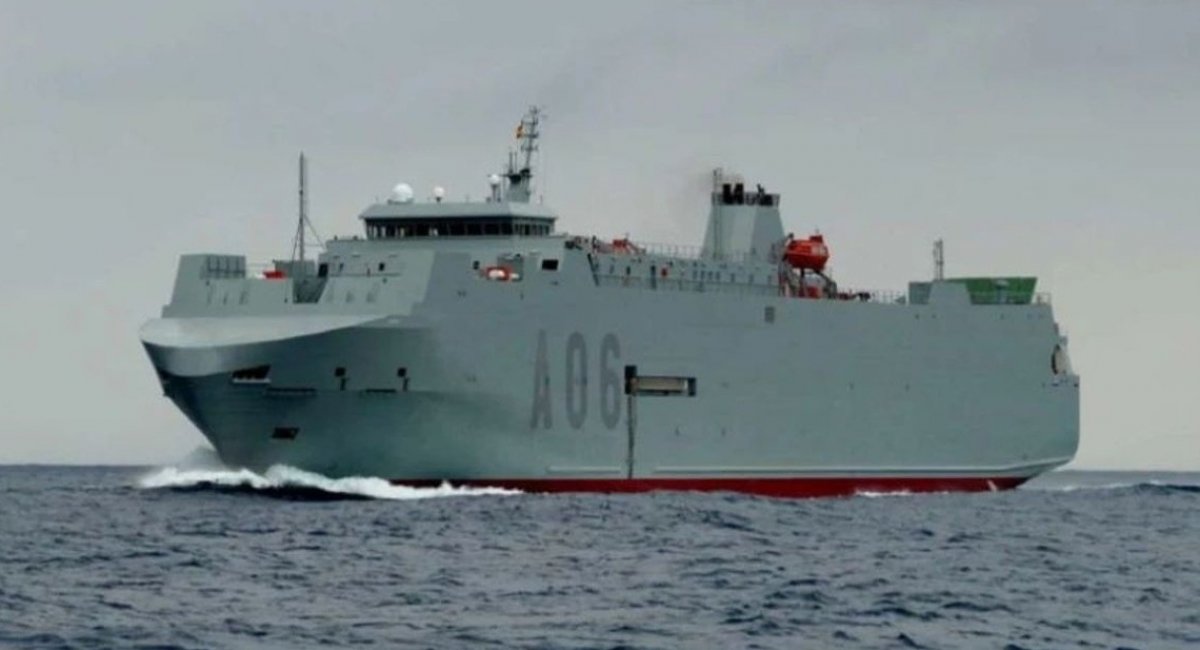 05:19 The UN Secretary-General Antonio Guterres will pay a visit to Ukraine. He will meet with Ukraine's Foreign Minister Dmytro Kuleba and President Volodymyr Zelenskyy on April 28. Guterres will also meet with staff of UN agencies to discuss the humanitarian assistance to the people of Ukraine, goes the statement from his secretary Stephane Dujarric.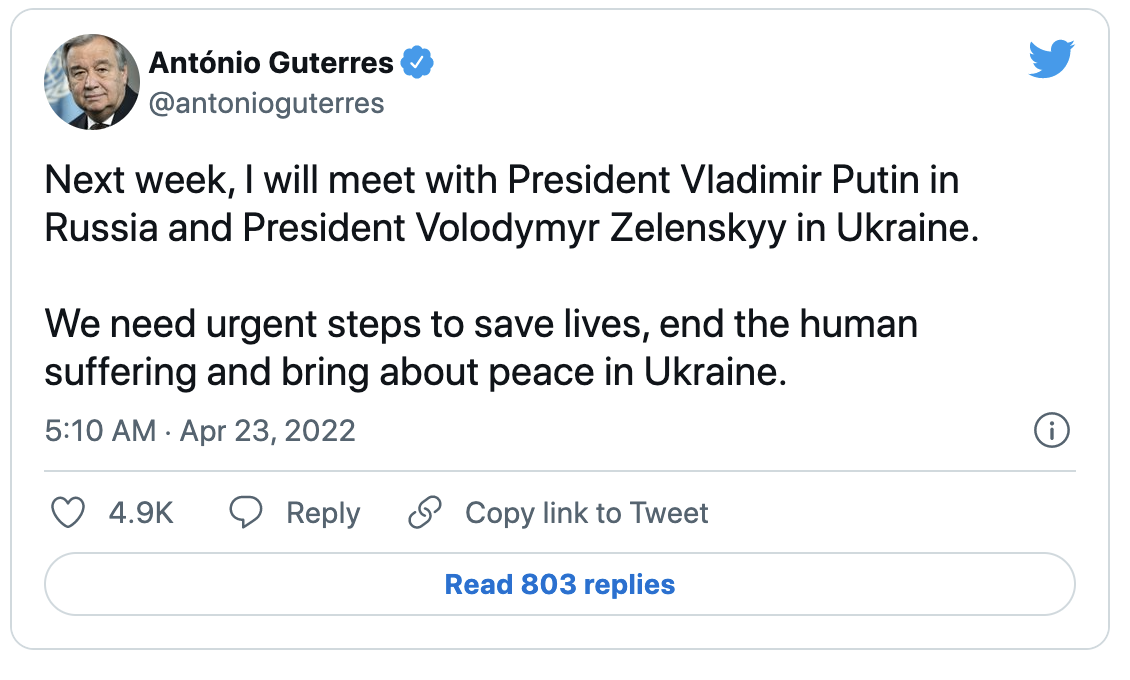 02:16 The UK is considering sending tanks to Poland to further provide Ukraine with Soviet-era tanks
Tanks would be sent to "backfill" in Poland so Warsaw can send to Kyiv the T-72 tanks – which Ukrainian troops are familiar with. Prime Minister of UK Boris Johnson mentioned the potential plan when speaking in the Indian capital, New Delhi.
Challenger II battle tanks could potentially replace the Soviet-era T-72s at Polish current disposal.
He said it is essential to step up immediate military support to Kyiv, warning there is a "realistic possibility" the conflict could drag on for a "long period". More details here: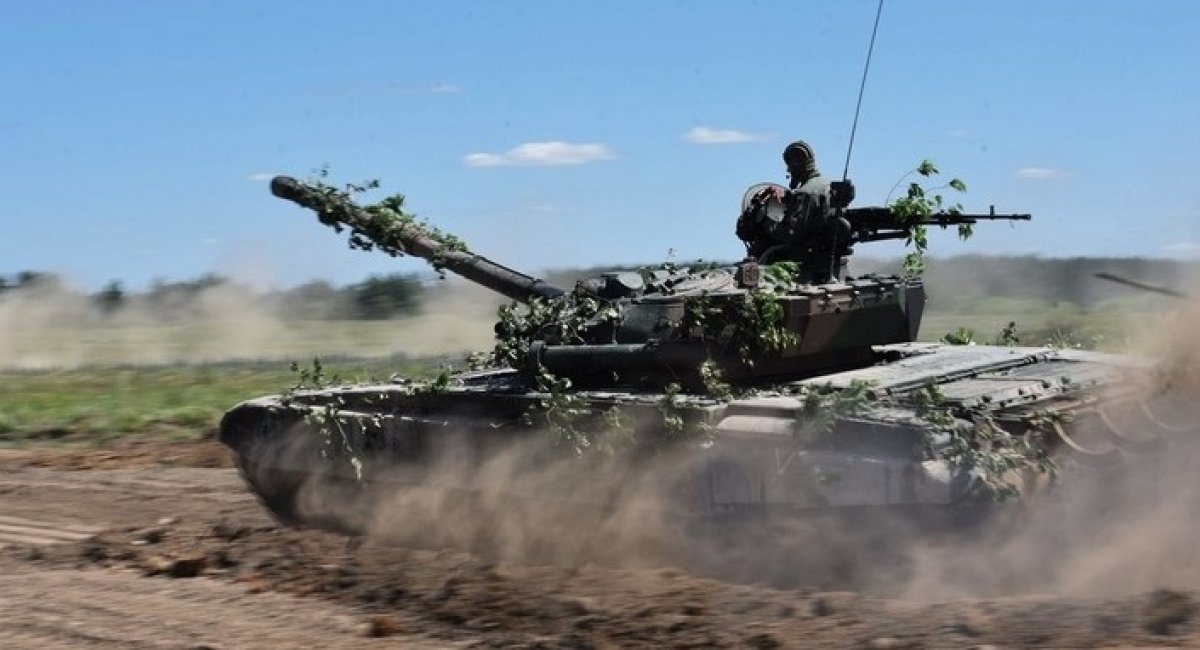 01:23 Eight attacks of the Russian invaders were repulsed by the Ukrainian military in Donbas on April 22.
9 tanks, 3 artillery systems, 18 units of armored vehicles, 1 armored combat vehicle, 13 units of motor vehicles, and 1 tanker of the Russian forces were eliminated as well as four UAVs.
More details and footage in a publication from Defense Express:
01:00 According to the President of Ukraine Volodymyr Zelensky, who delivered a video address to the nation on Friday, April 23, russia's plans to seize the southern part of Ukraine to gain a corridor to the border with Moldova only confirm the assumption that invading Ukraine was Russia's first step on the path of capturing other countries.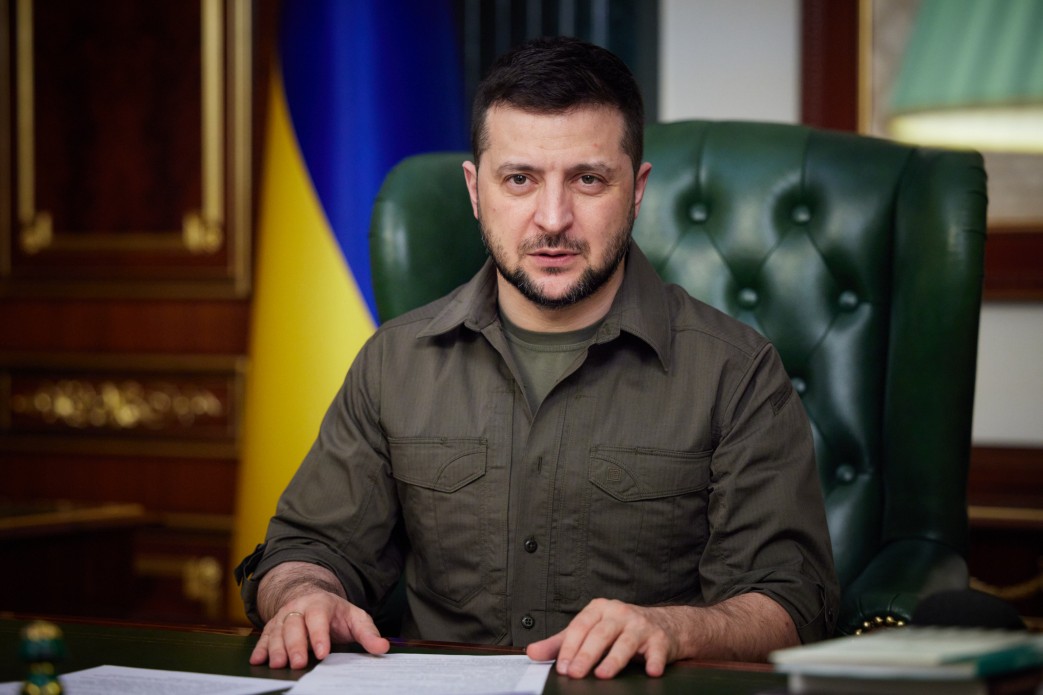 "Today, with reference to the Russian military, the news was spread that their task now is allegedly to establish control over the south of Ukraine and reach the Moldovan border. And allegedly there, in Moldova, the rights of Russian-speakers are violated.(…) Well, this only confirms what I have said many times: the Russian invasion of Ukraine was intended only as a beginning, then they want to capture other countries," said Zelensky.
Read also: The losses of the Russian army in Ukraine exceeded 21,000 soldiers - the General Staff
Russia has officially acknowledged that it wants to seize both the east and the south of Ukraine