A Russian TV presenter called the Turks idiots because her store did not accept the Mir card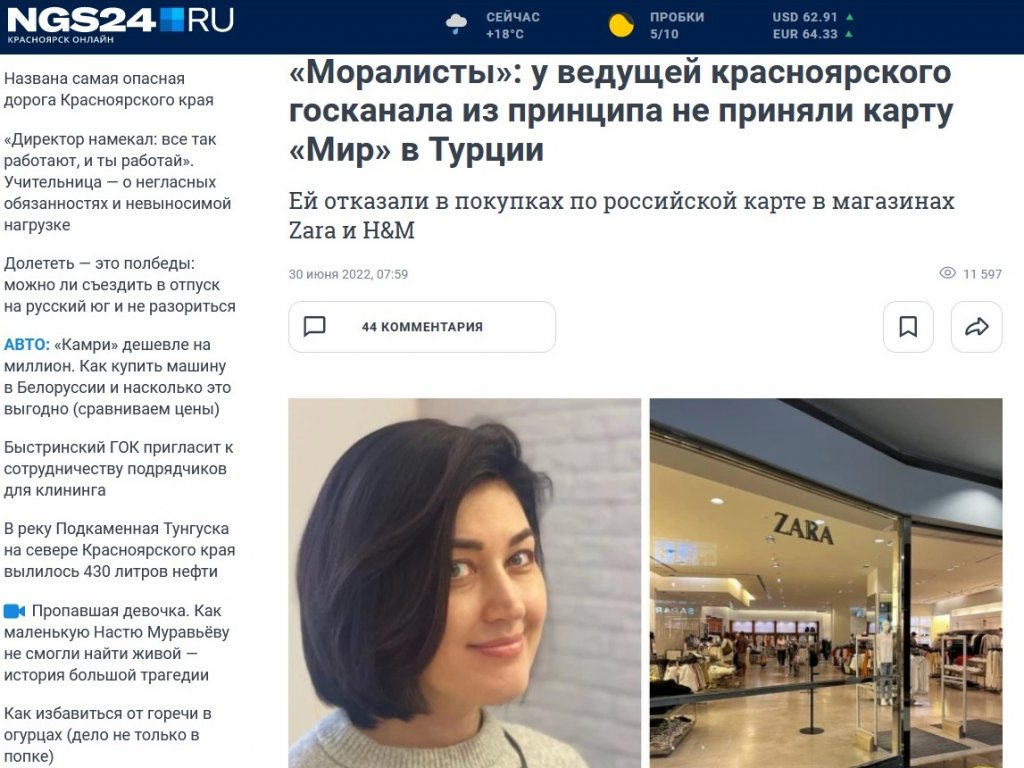 The Krasnoyarsk edition "NGS24.RU" writes that Yulia Sorokina, the presenter of the regional TV channel "Yenisei" in her Telegram channel , was indignant that in the Turkish stores Zara and H&M she did not accept payment by card of the Russian payment system "Mir" "on principle".
Already in the second Zara store in Antalya, we were told that they do not serve Mir cards. No banks. Fundamentally. Before that, we were told the same thing in the H&M chain of stores. Here are the damned moralists. Moreover, idiots," Sorokina was indignant.

Difficulties with accepting Mir payment system cards from Russians in Turkish stores Zara, H&M and others have been known since the beginning of the new tourist season. For example, in the large shopping center TerraCity in Antalya, in LC Waikiki, the card is accepted, but in Zara and the Migros supermarket chain, it is refused.
The head of Mir operator Volodymyr Komlev admitted that cards of the payment system of sanctioned banks do not work in all ATMs and POS terminals in Turkey. A number of acquiring banks there separate banks that are under Western sanctions and independently decide to stop self-service.
The Russian banks "Sberbank", "VTB", "Gazprombank", "Alfa-Bank", "Rosselkhozbank", "MKB", "FC Oktrytie", "Sovkombank", "Promsvyazbank" do not serve here. In addition to Turkey, "Mir" payment cards are recognized in Abkhazia, Vietnam, Armenia, Uzbekistan, Kazakhstan, Belarus, Kyrgyzstan, Tajikistan and South Ossetia.
Read also:
The losses of the invaders are approaching 250 thousand soldiers - data from the General Staff
How Russia hit high-rise residential buildings in Ukraine this year
Ukraine stopped one step away from the "bronze" at the Fencing Championship in women's team saber
Explosions in Moscow: the Ministry of Defense of the Russian Federation commented on the night attack by drones
The Armed Forces of Ukraine destroyed the Strela-10 enemy air defense system near Bakhmut (VIDEO)
Ukrainian defenders eliminated the Russian top colonel Yevgeny Vashunin, who commanded the "Leningrad Regiment"
China secretly sold drones to Russia for more than $100 million - Politico