Russian soldiers leave a witty caption on their TOS-1 Solntsepyok flame thrower (Photo)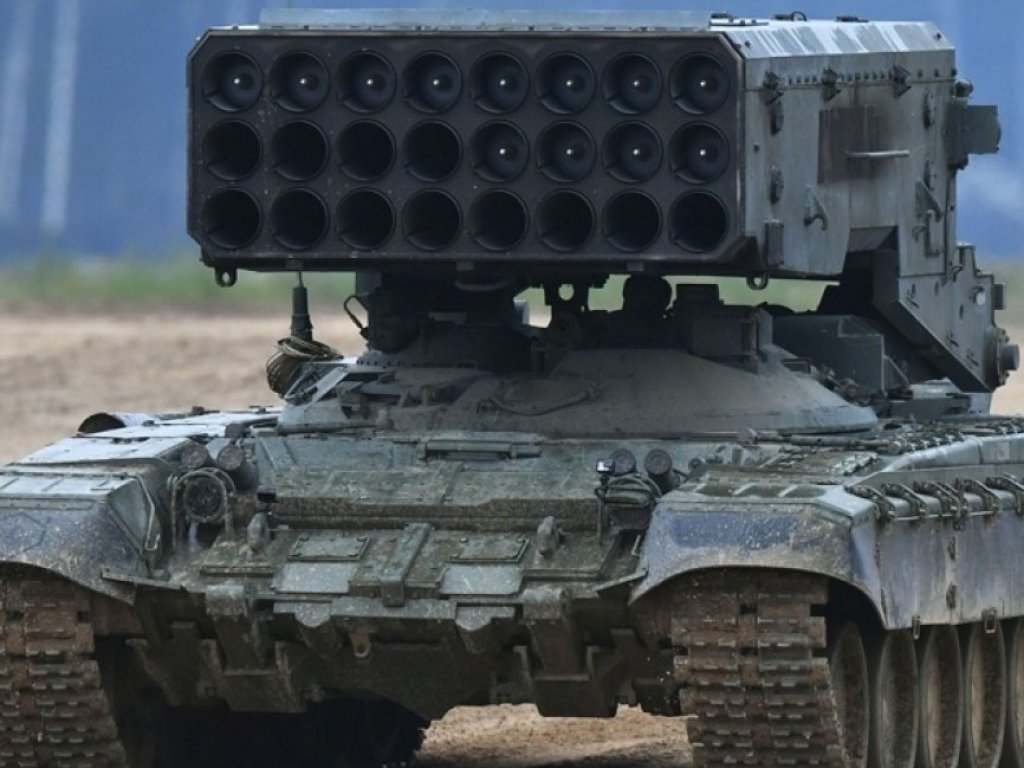 In truth, such bravado and cynicism in fighting can be found only in the Russian army. A very strange photo was just posted to open sources, showing that Russians put a caption on one of their TOS-1 Solntsepyok, implying that they purposefully attacked Kharkiv residential areas and planned to cause maximum destruction of the city and civilian losses.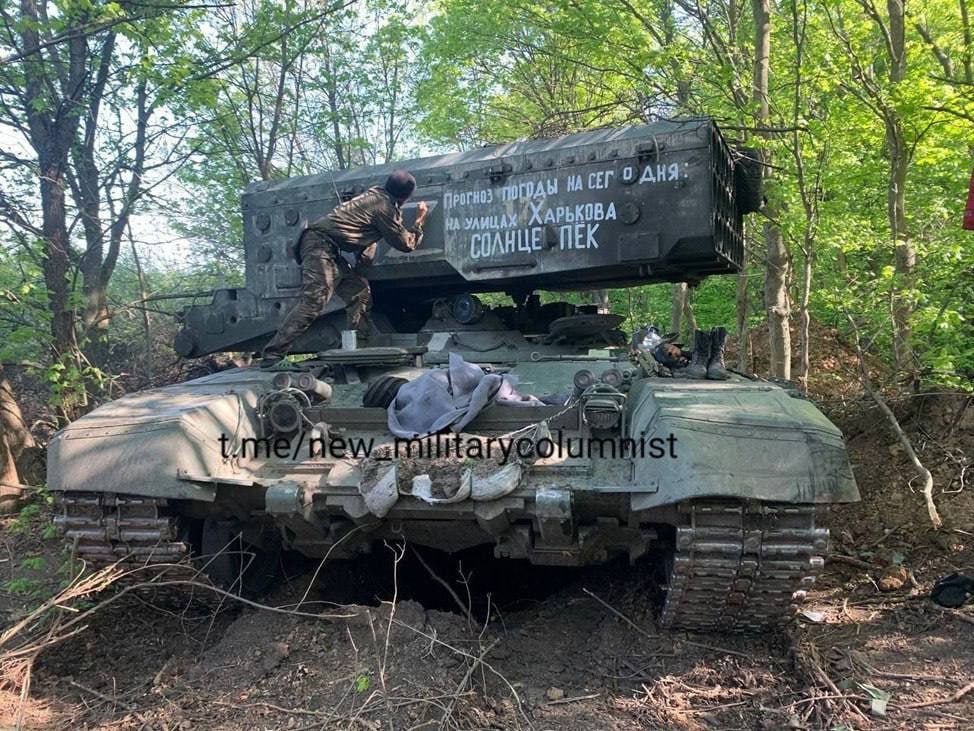 The inscription says: "Weather forecast for today: Kharkiv will face sun heat today". The word "sun heat" is translated into russian as "solntsepyok", which is basically the name of the flamethrower. So, it's their "game of words".
According to the watermark, this photo was released to the Internet by Russians in order to make an acceptable impression on all available audiences.

According to accessible sources, the TOS-1 firing range is 4-10 kilometers, hence the risk of receiving a retaliatory attack from the Armed Forces of Ukraine was the greatest.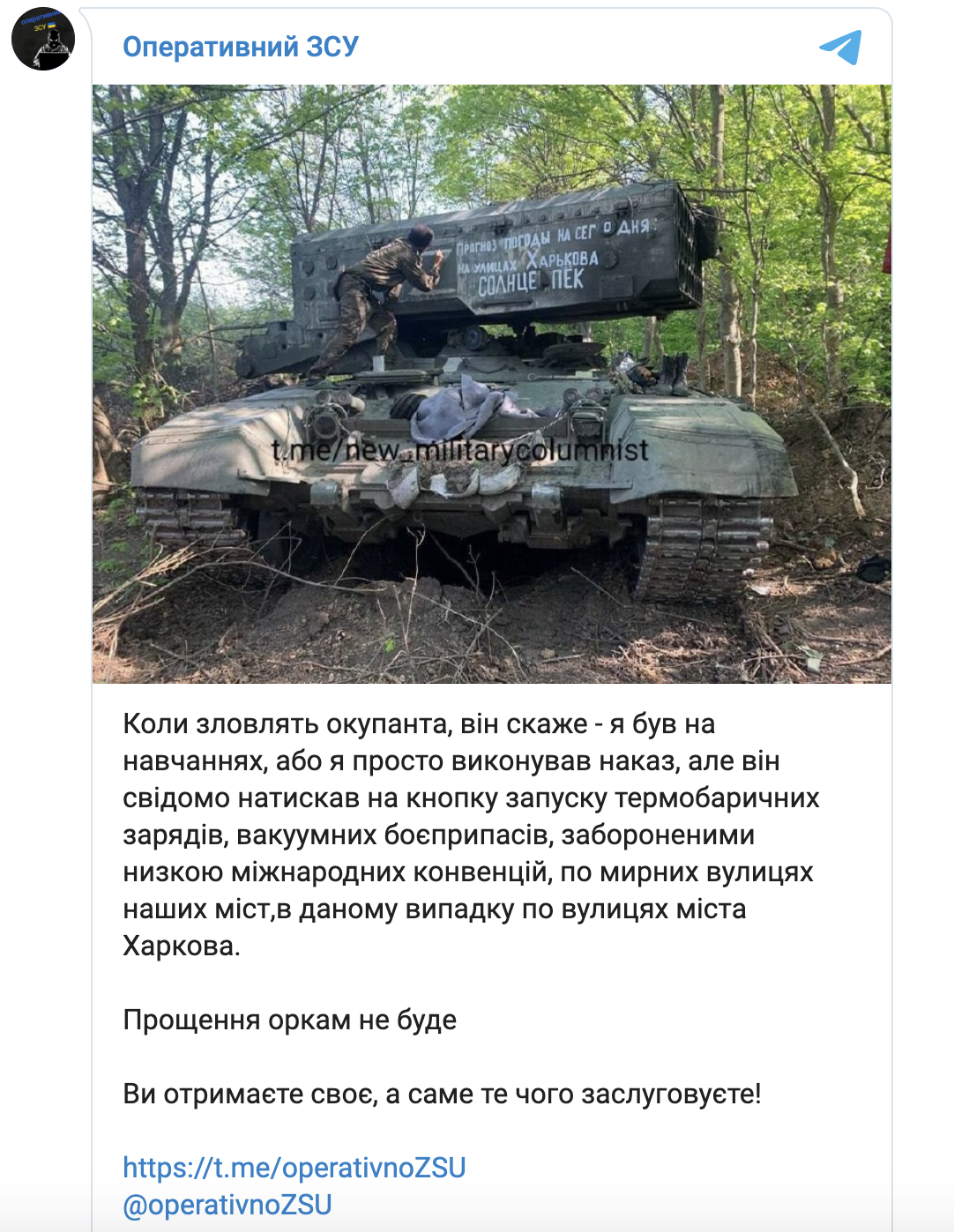 There have been no examples in world history when an invader left direct evidence of own war crimes with his own hands. So, Defense Express hopes that the above-mentioned photo will be needed in the future to bring to justice specific servicemen of the russian army who fired from this self-propelled flamethrower.As a result, the writing on the launcher may assist to "keep the spirit" of the russian occupants' barbarous and criminal ideals.
Read also: Al Jazeera showed a whole car with the bodies of Russian soldiers, and in their belongings - stolen gold jewelry (video)
The enemy has minus 350 occupiers, 17 tanks and 2 helicopters per day. Statistics from the General Staff of the Armed Forces
In the Kharkiv region, the Ukrainian Armed Forces killed 30 Russian servicemen and took two prisoners