Map of hostilities. Updated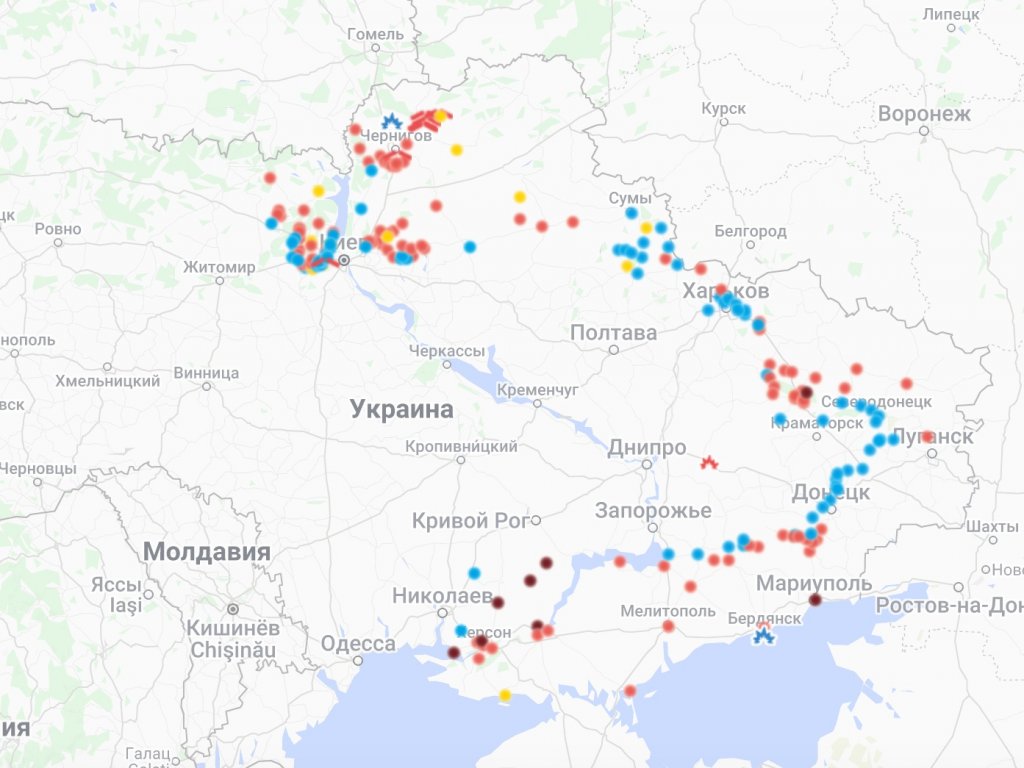 We collected data from open sources, such as reports from the General Staff and reports from regional military administrations, which are published daily. We do not specify specific positions - only the settlements mentioned in these reports are indicated. This is indicative, as there is no clear front line in the current war, and the situation on the battlefield is volatile and may differ from official reports. This map gives only a general idea, and if you live in an area where fighting is approaching, you should NOT rely on this map when deciding to evacuate.
Positions of the Armed Forces are marked in blue, Russia - in red (abandoned positions in Russia - in yellow). Burgundy - abstract "battlefields". Dot means control over the settlement or its surroundings (from the reports of the General Staff of the Armed Forces and the OVA, unless otherwise indicated). Click on the dots for more information - in some localities you will see in the window on the left, in addition to the name, a description of events or a link to the news.

The card does not claim to be exhaustive. It shows data starting from March 19, 2022. The map is updated as events unfold.
Ukraine needs your help
Stand with Ukraine and donate crypto. The funds will be used for the support of humanitarian and the Armed Forces of Ukraine.
Send BTC to this address:
1BuB5fmXdzdeZKZnqp7nh9NVCfFQ4dpDdp
Send ETH Ethereum (ERC20) to this address:
0x93e116d2bd7c188415dff7633baefa7e67b75849
Send USDT (ERC-20) to this address:
0x93e116d2bd7c188415dff7633baefa7e67b75849
Send USDT (TRC-20) to this address:
TPnVwdL9BHGnfjqoZyQQriL2iPPPgKXqpw
Read also:
The losses of the invaders are approaching 250 thousand soldiers - data from the General Staff
How Russia hit high-rise residential buildings in Ukraine this year
Ukraine stopped one step away from the "bronze" at the Fencing Championship in women's team saber
Explosions in Moscow: the Ministry of Defense of the Russian Federation commented on the night attack by drones
The Armed Forces of Ukraine destroyed the Strela-10 enemy air defense system near Bakhmut (VIDEO)
Ukrainian defenders eliminated the Russian top colonel Yevgeny Vashunin, who commanded the "Leningrad Regiment"
China secretly sold drones to Russia for more than $100 million - Politico