Why Ukraine Is a Space Nation Life During the Occupation of Hostomel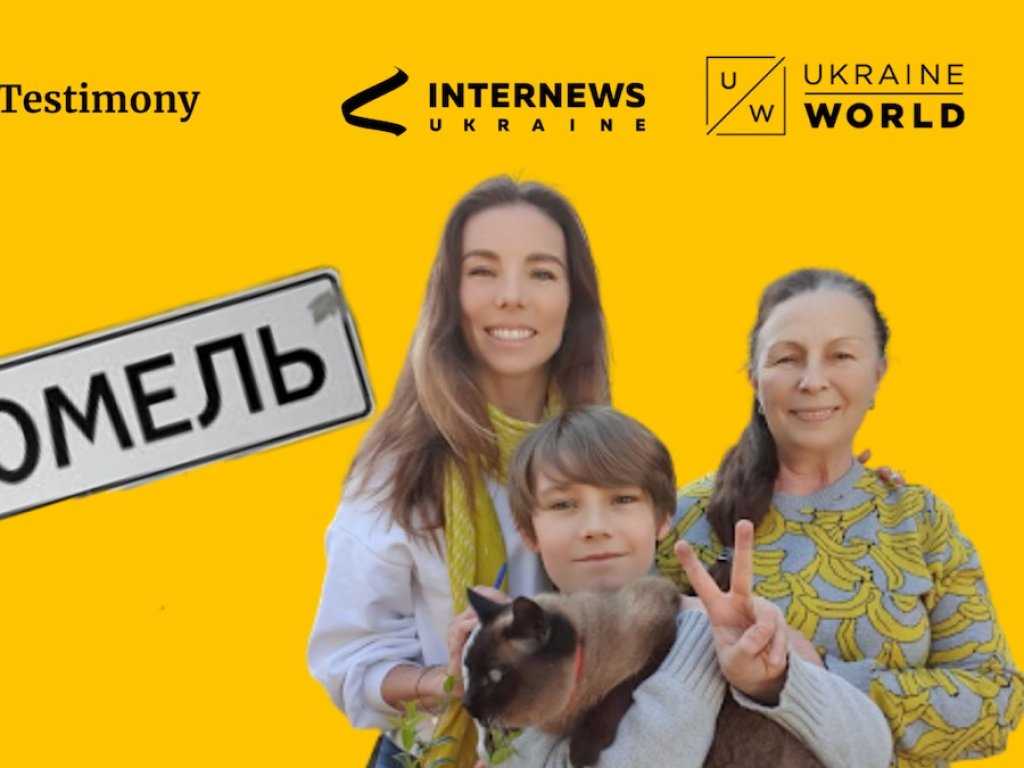 Olena and her family spent their first days of the war under the Russian occupation of Hostomel and miraculously managed to escape from the town to Kyiv. Learn their story in our new article.
On February 24, at 5:25 am, I received an unexpected call from Odesa from my brother Andriy: "The war has begun! Cities are being bombed! Get ready and go to dacha to mom, away from the city. Don't go to Odesa, they're bombing here too!" My son Ivan and I lived in Hostomel, and 7 km from our apartment there is a summer house where my mother lived.
There is a military airfield in Hostomel, it was bombed early in the morning. Ivan and I got together very quickly, took the essentials, documents, food and went to my mother by car. At about 6:30 we were already at my mother's. We felt the first feelings of anxiety, confusion and hope that everything will end soon.
Neighbors with children from Kyiv began to come to their dachas to stay away from the city, but we all made a mistake and fell into a trap. The dacha settlement became a war zone on the outskirts of Kyiv.
Neighbors with children from Kyiv began to come to their dachas to stay away from the city, but we all made a mistake and fell into a trap. The dacha settlement became a war zone on the outskirts of Kyiv.
At 11:30 a squadron of helicopters flew over our houses towards Vyshgorod and Kyiv, there were about 30 of them, or maybe more. They were Russian landing helicopters, flying very low over rooftops and treetops. The wind rose from the helicopter blades, a terrible roar. They flew so low that the pilot from one of the helicopters turned to look at me, and we made eye contact. Terrible feeling of animal fear.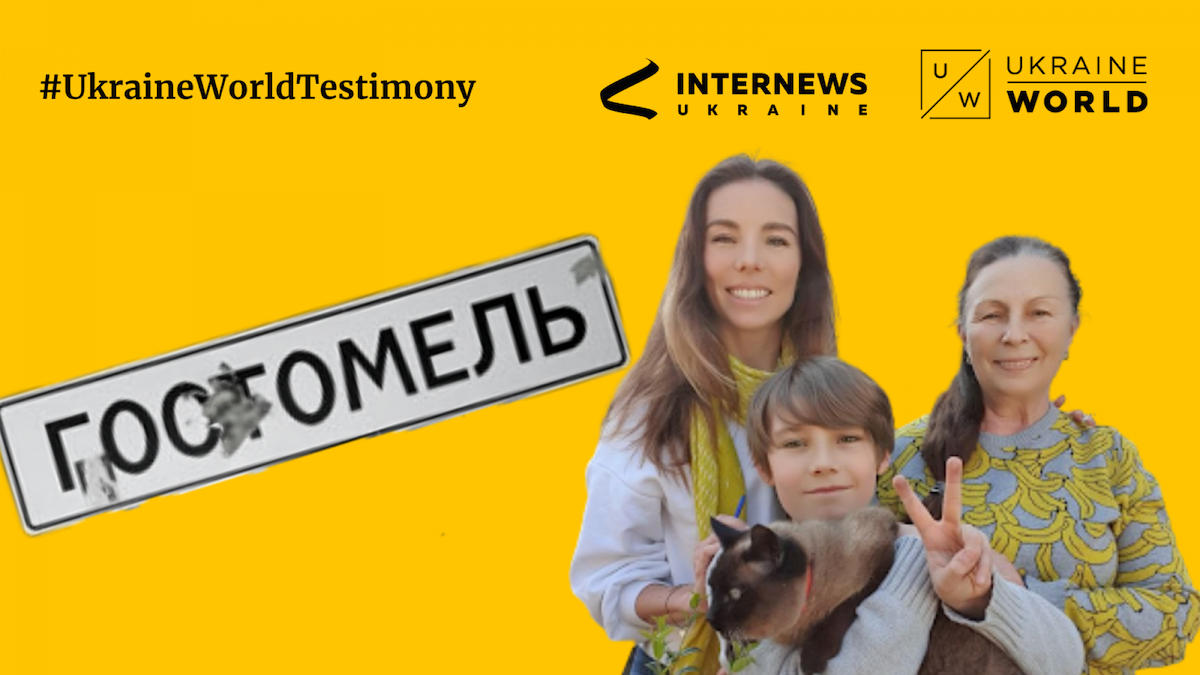 Shooting and explosions didn't stop all day long. Once we tried to sit in the basement, but it's damp, cold and cramped. It's not clear how long to hide, but you want to eat and sleep. We began to hide from the shelling and sleep in our house, in the sauna on the floor under the benches, this is the first floor and there were no windows. We spread blankets on the floor and slept in clothes so that at any moment we could run out of the house in case of fire or destruction from a shell.
February 25. We learned that all the bridges across the Irpin River had been blown up so that Russian troops would not enter the capital. The territory of our dachas, neighboring villages, Hostomel, Bucha and Irpin was separated from Kyiv by the river. Now we are occupied and completely cut off from Kyiv, explosions and shooting are heard all around, it is too late and there is nowhere to run.
The fights were very close. Everything around rumbled and whistled from bullets, the earth shook from explosions. We studied the sounds of different guns and learned how to navigate whether the battle is far or very close and where the shells explode. Where are the missiles flying from and where are they falling. We knew how machine guns, mortars, hailstones sounded, how missiles whistle flying over houses. This knowledge helped us to survive.
About a week later, Russian troops with heavy military equipment entered the territory of our village. They broke into houses, kicked out doors and windows. They broke fences, placed tanks and anti-aircraft missiles in garden plots, and fired shots in the direction of Kyiv or Vyshgorod. Soldiers broke into our house too, the door was not locked, so they didn't break it. We hid in the sauna on the floor under the bench, tucking our legs under us, and they didn't see us, but they were looking for something in all the rooms, opening all the cabinets, throwing things around. It was very scary.
In rare breaks between battles, we talked with our neighbors and learned that a "green corridor" for evacuation from Hostomel would soon be announced. We had to get to Hostomel on our own, and this is 7 km across the completely occupied territory, and the shooting could start at any moment during the journey.
March 9th. I heard the piercing whistle of a missile very, very close. My friend Andriy shouted – "Lie down!", pushed me, pressed me to the ground and covered with himself. The missile flew into the house next to us. Shards of glass flew, pieces of windows, stones, metal, and a pillar fell. We were covered in some rubbish. The concrete fence protected us from injuries, and maybe even from death. Then 3 or 4 more missiles flew in, I didn't count anymore, but just lay down and ran, lay down and ran. We ran together to my house, and the missile attack stopped. I saw that the house was intact, mother and son Vanya were alive, but scared.
This missile attack was a turning point for me. I decided that if I didn't make an attempt to evacuate now, then I could die under the rubble of my own house during the next missile strike. We quickly threw the essentials and the cat in the carrier into the car.
I was driving, in the car were my mother, son Ivan, neighbor Olya, my friend Ksyusha, her dog George and my cat Grunya. And so we went to the track. From this moment begins the most terrible and dangerous hours of our lives. It's hard to describe, my heart is pounding from the memory.
A piece of white sheet was taped to the hood of our car, and "CHILDREN" was written on it with a marker. In our hands we held white flags sticking out of the window. I was driving very slowly. Our hearts pounded out of our chests and we all prayed in whispers. The road was littered with shell fragments. It was scary because we knew that there were those who had already made attempts to leave, but their cars were fired upon. Some managed to escape, and they crawled back wounded, and some never returned.
After about a kilometer we saw soldiers with weapons. I slowed down and raised my hand from the open window. A soldier signaled me with a machine gun to drive closer. I pulled up and got out of the car with my hands up. I was told to put my hands down, open the trunk, show everyone the documents and give our phones. I hid my phone under the seat in advance, and gave them my son's old phone as my own.
We drove on. I drove very slowly and carefully looked at the road, so as not to break the wheel with debris. Burnt, shot and crushed civilian cars stood on the roadside. I was afraid to turn my head and look there, because some of them had corpses.
When we arrived at the appointed place of evacuation, we saw a huge column of cars. All these people, just like us, came from the nearest villages and Hostomel in the hope of being saved. Many people walked with their children, dragging their things in their hands, some old paralyzed woman was being transported in a garden wheelbarrow. Creepy picture.
Suddenly, military helicopters flew right over us, shooting, explosions began, people began to scatter, cars began to turn around and drive back. A shell hit the crossroads where we came from, and there was a crowd of cars. There was no way back for us.
Most of the houses on this street were already destroyed or burned down. I began to run down the street in search of a surviving house, and then people from behind the fence waved their hands at me and shouted "Here! Quickly to us!" They opened the gate, and I quickly drove into their yard. The owner of the house Yura, his wife Zhanna and their nephew Roma warmly welcomed us and shared their dinner with us.
March 10. The news said that today there will be another attempt to evacuate people. We got into the car and drove outside to the evacuation site.
Morning, Hostomel, dilapidated street, cars, frightened people. Everyone is waiting for something, and no one knows anything. Someone said that we should leave the cars and go on foot through the blown-up crossing, where evacuation buses will be waiting on the other side. But I didn't like this option.
And then I saw two cars coming in the opposite direction. It was clear from the men's faces that they knew where they were going. I waved them to stop. One driver said he knew a way around the damaged section of the road, and I joined a third car behind them. What we saw on the way is beyond words, it was like a scary movie about the end of the world. There was not a single whole house along the road, burnt shops, broken windows, doors, broken military equipment, a lot of shot and burned civilian cars on the roadway, corpses lay on the streets covered with blankets.
We drove past the house where we lived with my son. There was not a single whole window in the house, and the entire facade of the building was full of holes from automatic fire and various shells. I'm afraid to imagine what would have happened if we hadn't left for the dacha on the morning of February 24.
Suddenly, Russian tanks drove towards us. Our first two cars managed to pass this intersection, but I did not have time and the tanks began to turn right at us, and were not going to slow down. I quickly turned to the side of the road, miraculously avoiding sharp debris, and the tanks rushed past us. I saw civilian vehicles crushed by tanks on the road, and I understood that this could happen to us too.
So our journey continued through Hostomel, Bucha, Vorzel, and everywhere we saw this terrible picture: ruins, corpses, a baby carriage on the side of the road, cars shot up, blown up tanks, Russian armed soldiers.
Throughout the journey, at the sight of Russian soldiers at checkpoints, brave men from our column got out of the cars with their hands up and asked to let us through. I don't know what magic words they said, but we were let through everywhere. Unfortunately, not everyone was so lucky. Later, I learned that during these days of evacuation, a lot of cars with women and children were shot and blown up. Finally we saw our Ukrainian blue and yellow flags! I wanted to cry with happiness. We have reached Kyiv!
Now Olena and her family are in Stuttgart, Germany, where her eldest son Vlad lives. The family arrived with passports, a laptop, a cat and in the clothes in which they ran out of the house on March 9. Olena did not have time to take anything with her. But she brought the most valuable thing she has – her family.
Read also:
Hryhoriy Kozlovskyy and the "movers" handed over 30 mobile fire groups to PvC "Zachid" - for 3.7 million hryvnias.
The International Fencing Federation "killed" Ukrainian Olga Kharlan because Russian money is more important than peace
Russian soldiers killed a famous Ukrainian writer. She documented the crimes of the Russian army
The Lost Lives Behind Zelensky's Call to Ban Russian Athletes from the 2024 Olympics
Kira Makogonenko, 14-year-old Kharkiv girl shocked the boxing world (VIDEO)
Petr Pavel wins the Czech presidential election. Why it is important for Ukraine