Belarusian media posted a video of Russian occupiers posting loot from Ukraine at the post office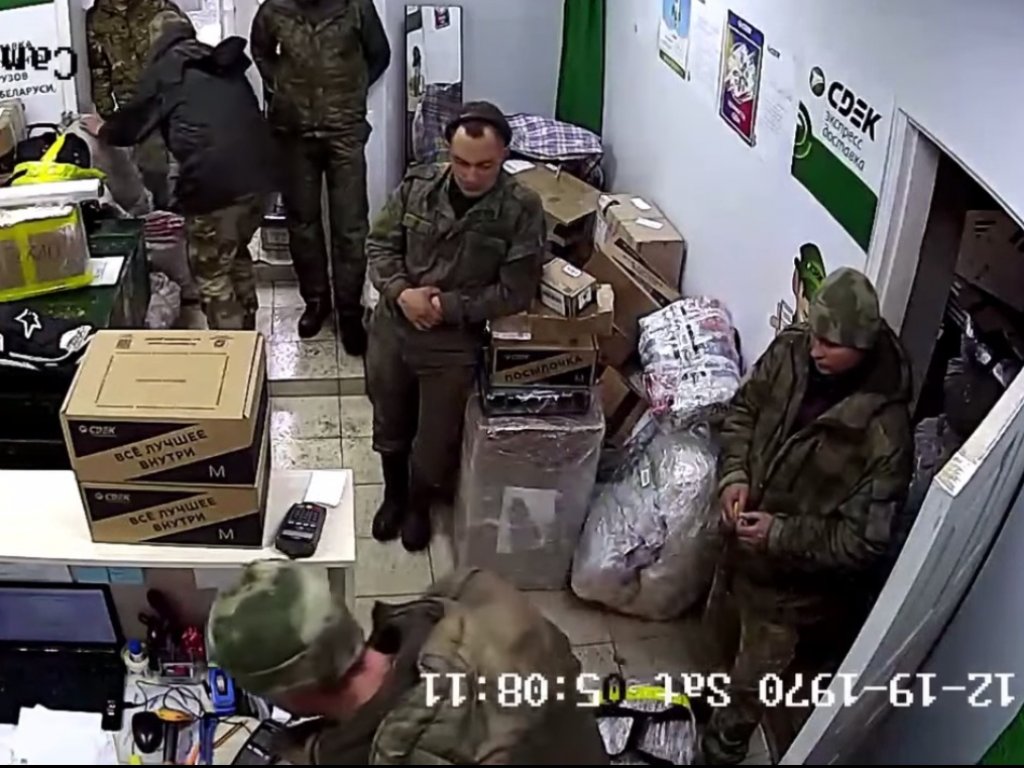 Belarusian opposition journalists have obtained video from surveillance cameras showing Russian occupiers registering looted property from Ukraine at a post office in Belarus.
Journalists posted surveillance footage from the office of the Russian delivery service "SDEK" in the office in Belarus. The recording was cut by journalists from a video broadcast on the company's website on April 2.
They show how the Russian occupiers send things stolen from Ukrainians to Russia through the delivery service. Registration was done between 11:30 and 15:00.
The video clearly shows how the Russian invaders make out the stolen TVs, electric scooter, 4 boxes with AKAI air conditioners, alcohol with price tags, video cards, car batteries, kitchen hoods. The video even shows a packing bag from the Ukrainian hypermarket of building materials "Epicenter", in which one of the occupiers put the looted items.
At 1 hour 2 minutes of the video, the chevron on the sleeve of the uniform of one of the Russian occupiers is clearly visible. This is the 56th Guards Assault Regiment of the Russian Armed Forces, which is stationed in Feodosia in the occupied Crimea.
According to journalists, it is a question of branch of delivery service "SDEK" on Kuibyshev Street, 32 in Mozyr.
Prehistory:
The SBU published recordings of intercepted phone calls from occupiers sitting on the outskirts of Kyiv. The invaders brazenly flaunt the fact that they break down doors in apartments and houses in order to steal as much Ukrainian property as possible.
In other intercepted conversations, the occupiers confessed to relatives who were drinking in trenches and temporary bases near Ukrainian cities.
Donate
Organizations on the ground and globally are actively supporting people within Ukraine and refugees seeking safety elsewhere with medical and humanitarian aid.
These are the main fundraising accounts to support Ukraine:
Assistance to Ukrainians Affected by Russia's Aggression:
https://bank.gov.ua/en/news/all/natsionalniy-bank-vidkriv-rahunok-dlya-gumanitarnoyi-dopomogi-ukrayintsyam-postrajdalim-vid-rosiyskoyi-agresiyi
Raise Funds for Ukraine's Armed Forces:
https://bank.gov.ua/en/news/all/natsionalniy-bank-vidkriv-spetsrahunok-dlya-zboru-koshtiv-na-potrebi-armiyi
Save Life Fund and their subsidiary Come Back Alive:
https://www.comebackalive.in.ua/
https://savelife.in.ua/en/donate/
Ukraine needs your help
Stand with Ukraine and donate crypto. The funds will be used for the support of humanitarian and the Armed Forces of Ukraine.
Send BTC to this address:
1BuB5fmXdzdeZKZnqp7nh9NVCfFQ4dpDdp
Send ETH Ethereum (ERC20) to this address:
0x93e116d2bd7c188415dff7633baefa7e67b75849
Send USDT (ERC-20) to this address:
0x93e116d2bd7c188415dff7633baefa7e67b75849
Send USDT (TRC-20) to this address:
TPnVwdL9BHGnfjqoZyQQriL2iPPPgKXqpw
Read also:
In Russia, a junkie son killed his mother, threw her body off the balcony and killed himself by cutting off his penis
Spanish media: Putin's ex-wife sells apartments in Spain
Original sabotage: employees of a Russian defense company "spoiled" Pantsyr air defense system for a blogger's money (PHOTOS)
Analogies of wars: Soviet-Afghan vs. Russian-Ukrainian
Ukrainian Armed Forces destroy enemy electronic warfare system "Palantyn" (video)
How are Russian athletes in uniform going to infiltrate the Olympics? An investigation by Glavkom
Ukrainian paratroopers show how they destroyed a Russian Terminator armored personnel carrier