19-year-old KPI student Oleksandra Anikieva died at the front
A 19-year-old student from Kyiv dreamed of becoming a book artist, but joined the Armed Forces and died for her homeland.
The photos of the Heroine were posted on Facebook by the Department of Printing Technology of VPI KPI named after I. Sikorsky. The girl wanted to be engaged in publishing as an art. And her photos carry the energy of happy student days. Now in May, Oleksandra might be preparing for the session and working on creative projects.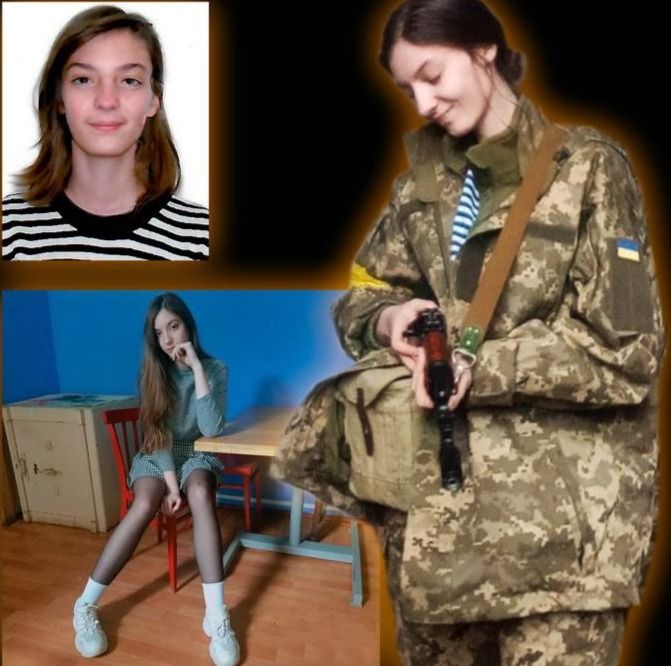 "Have you seen what an angel who came down to protect us looks like?" - writes about Oleksandra Myroslava Perevalska, who taught her painting, took entrance exams, rejoiced in all her achievements…

"This is Sasha, she was only 19 years old…
She was born to live, to be happy, to be loved, to create beautiful…
Talented and fragile, tender and always smiling, that's how I will remember her… ", - her teacher shares her thoughts about student Anikieva with bitterness.
With the beginning of Russia's open armed aggression against Ukraine, Oleksandra went to defend the Motherland with weapons in her hands in the ranks of Ukraine's SRS, and later in the ranks of the Armed Forces.
More than two months of her life were between heaven and earth - with weapons in hand, in the battles for Ukraine. The fragile 19-year-old Alexandra was a marksman in the Armed Forces. And then there was a message from the staff of the Publishing and Printing Institute of KPI named after I. Sikorsky.
"The terrible news stunned the whole team: on May 5, 2022, a student of the SG-92 group Oleksandra Anikyeva died while serving in the Armed Forces," the teachers wrote.
She had a great life ahead of her for joy and dreams. But one dream turned out to be the strongest - to live in a free independent Ukraine. And for this dream, a young talented girl Alexander Anikiev paid with his life.
"Alexandra dreamed of becoming an artist of the book, to bring harmony and beauty to this world. But it happened differently: in her 19 prosperous years, she died defending the Motherland as a shooter of the Armed Forces of Ukraine, "the institute's employees share their thoughts on the student. And bow to her courage and patriotism.
And Myroslava Perevalska, Oleksandra's painting teacher, admits that this girl became a teacher by and large for all adults, she showed a life example that only a few can do.
"She is a warrior of light!
Her path is light, love and strength!
We bow to you child, I'm sorry that we, adults, are alive, but you are not… »
*** *** *** ***
In Kyiv, they said goodbye to Maksym Medinsky, a journalist and lieutenant in the Armed Forces of Ukraine. He died in the battles for the liberation of the Kharkiv region from the Russian occupiers. He is survived by a 3-year-old daughter, wife, mother, father and sister. Maxim Medinsky was 32 years old.
Olga SKOTNIKOVA , "Evening Kyiv"
Read also: Despite air strikes and shelling, Inna Zatoloka was able to evacuate almost her entire family from Mariupol during the Russian occupation
Became a widow after three days of marriage: a love story of defenders at Azovstal
The Azov Regiment showed photos of wounded soldiers in Azovstal
Chinese journalists managed to accidentally film the flight of Russian tank T-72B3 into space near Mariupol