How the 20-year-old TikTok star from Chernihiv met the mayor of Milan and became a world sensation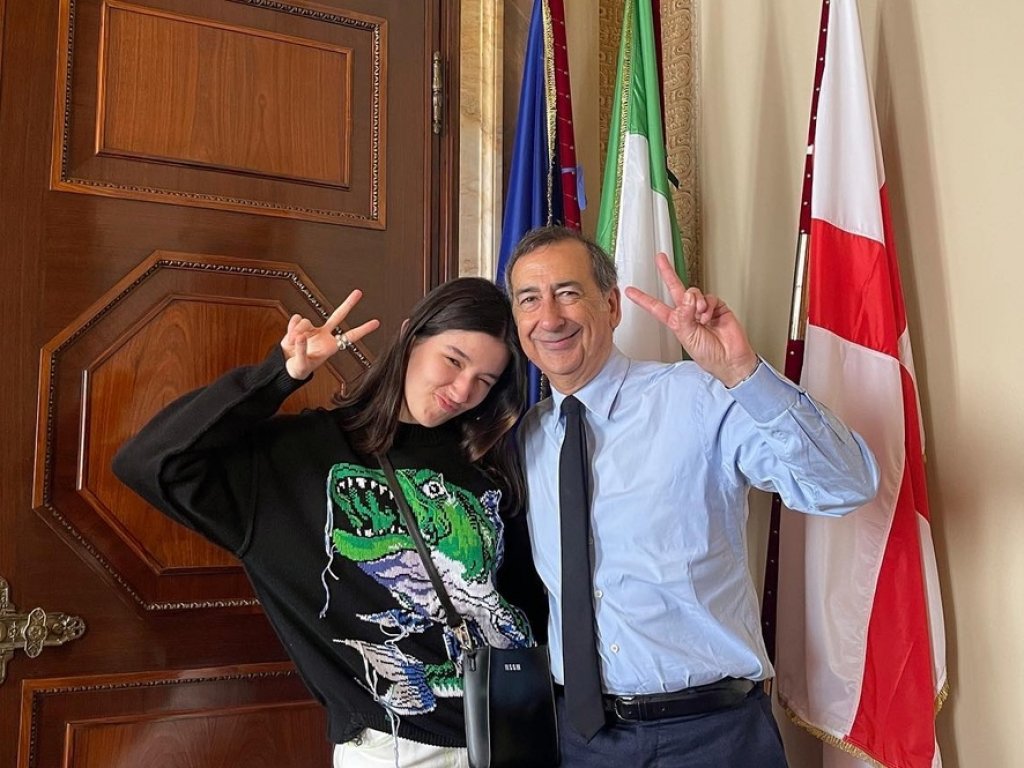 Chernihiv resident Valeria Shashenok is one of the most popular TickTokers in Ukraine, and may soon compete with Xabi Lame (the most popular TickToker on the planet - 136 million subscribers). 1.1 million users have subscribed to it.
For comparison - TV presenter-chemist-TV bachelor Gleb Repich has 572 thousand subscribers. The girl started her account 2 years ago - to share her hobbies, travel moods, etc. However, everything changed on February 24. Because since then I had to publish short videos from the bomb shelter. In Chernihiv, the Shashenok family is quite famous. Valeriy's father, also Valery, was a former member of the Chernihiv City Council from the Progressive Socialist Party.
The account of 20-year-old Valeria Shashenok has already received more than 39 million likes and 60 million views. Viewers like her videos, generously seasoned with humor and sarcasm, Valeria can laugh at circumstances and herself. He also shows his life during the bombing of Chernihiv by Russian aircraft - how his family lived in a bomb shelter, how he had to dry his hair with a construction blow dryer and cook pancakes without a stove. This is all part of the very popular TikTok trend "Things that makes sense in", when bloggers showed everyday or unusual things that only make sense to themselves.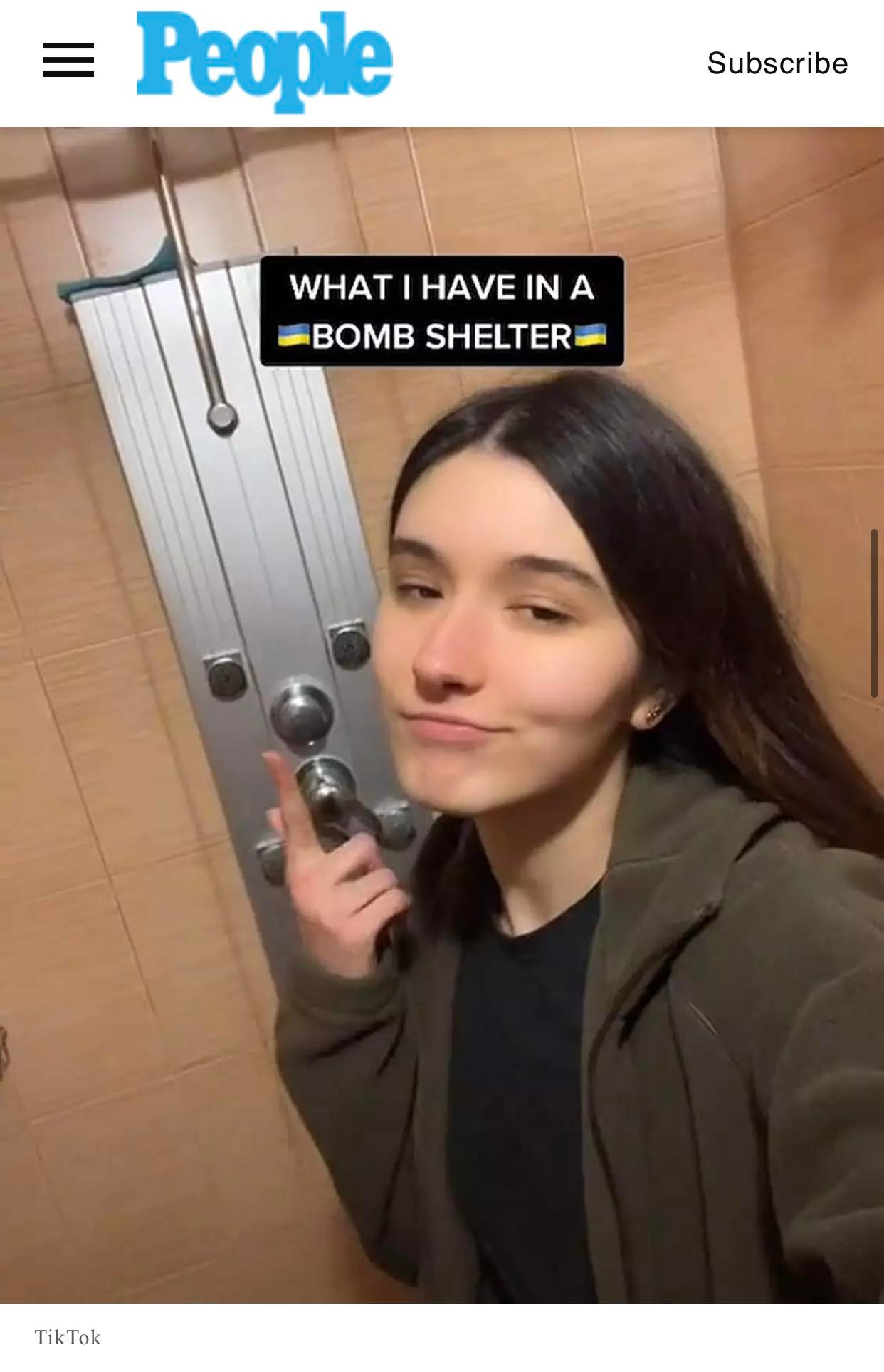 Valeria's most popular video has been viewed almost 50 million times - it is about how her family lives in a shelter, how the girl sees the bombed houses and cafes of Chernihiv every day and thanks Russia for it. Of course, with sarcasm.
However, humor does not always help. Especially when it comes to the death of loved ones. So, on March 27 the girl learned that in Aleksandrovka (it is one of the most affected areas of the city) her cousin died. In memory of him, she posted a children's photo with the words "I love you so much and I will never see you again."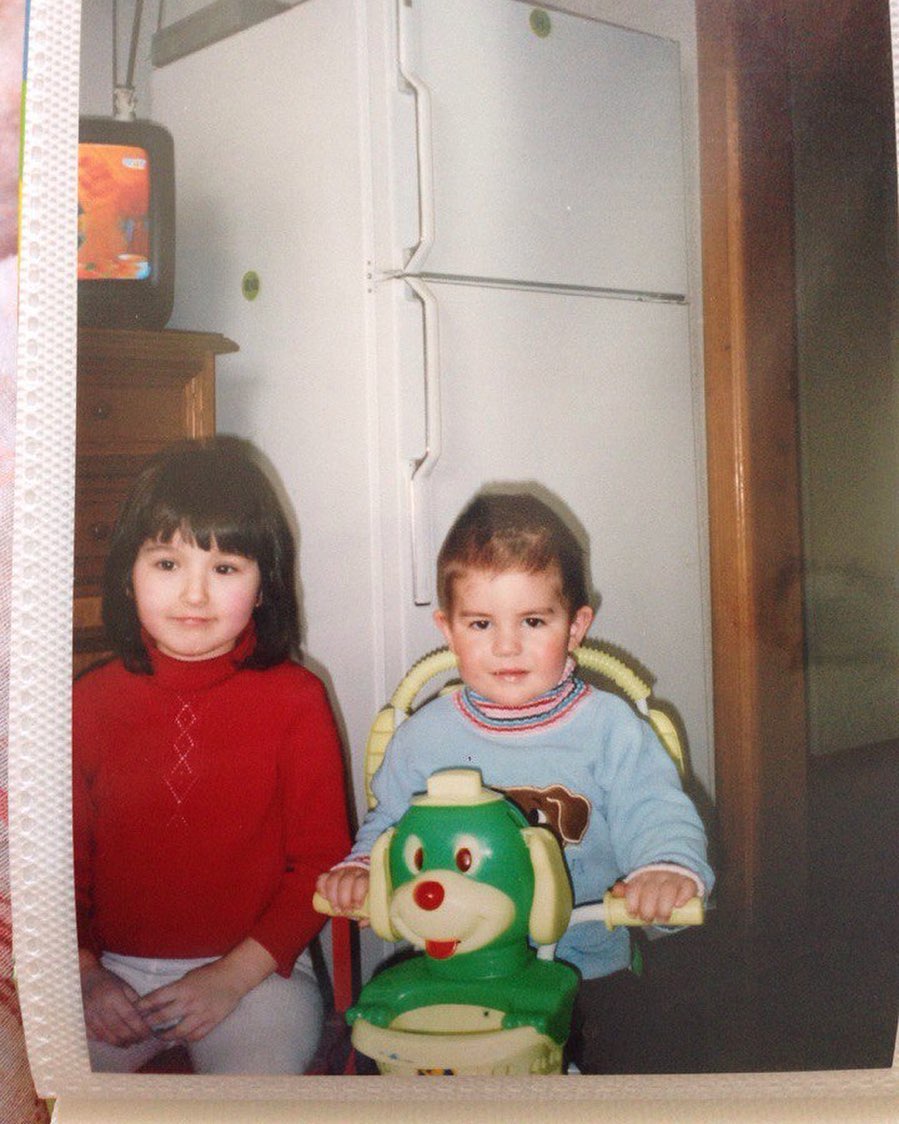 Eventually, this experience and others became the basis for the book "24 February. Things, that makes sense in bombshelter "(February 24: Story.One Publishing). The work contains many photos and memories of Valeria about the blockade of Chernihiv, the events she witnessed. Back in March, Chernihiv left for Italy. Currently, the girl is on a tour related to the promo book. By the way, Valeria's work can be bought on Amazon for ₤ 8.49.
The blogger's Instagram page is also quite popular, with 129,000 subscribers. There the girl talks about the main idea of ​​writing a book:
-I am shocked, but I am sure that everyone should know about the war in Ukraine and talk about it every day. I'm in Vienna now, and just the thought that there is a war in 10 hours by car from here makes me anxious inside. My book is my diary. It's very easy to read, and my mom said she liked my book. For me, this is the most important assessment. I've added photos that are important to me, stories that only my friends know, and who I am.
So far, the work has been published only in German, but will soon be translated into English.
Valeria Shashenok herself dreams not only of peace, but also of rebuilding her native Chernihiv, which she is trying to help by cooperating with various volunteer humanitarian organizations. And the girl promises to hug everyone who donates money to rebuild the city. Yes, she met with Milan Mayor Giuseppe Sala.
A simple day with the mayor of Milan. We talked about our "love" for Russia and how we can help my hometown of Chernihiv. I believe that the volunteer organization Palyanytsia now has more power than before. Thanks to Italy and the people who support the peaceful citizens of Ukraine.
Chernihiv photography is rapidly gaining worldwide popularity - it is covered by local news, a separate article was devoted to the influential American media company The Washington Post, the popular British tabloid The Dailymail, American tabloid People, Canadian news portal The Toronto Star and more. In the Western media, Valeria was nicknamed the "Ukrainian star of TikTok".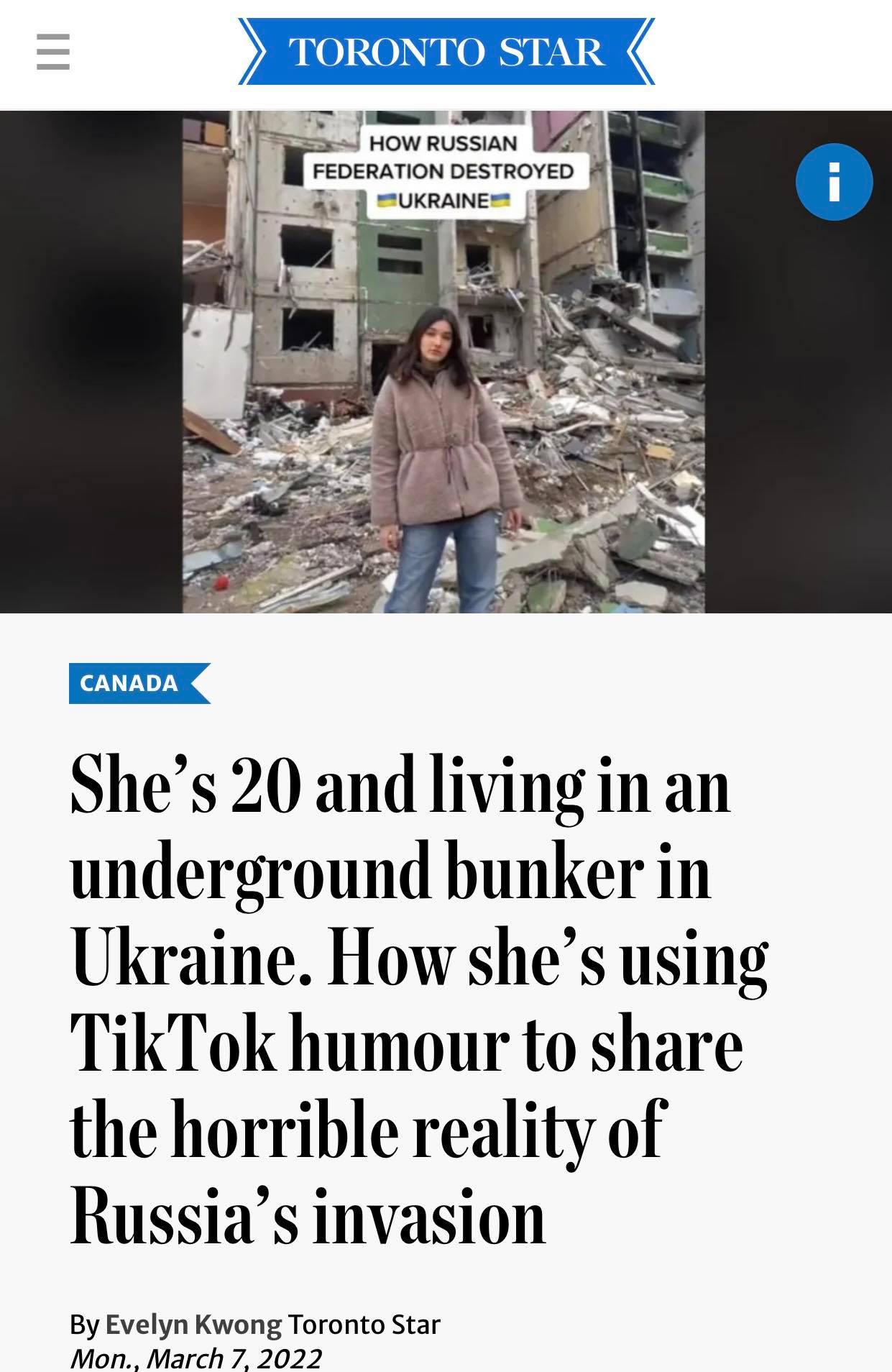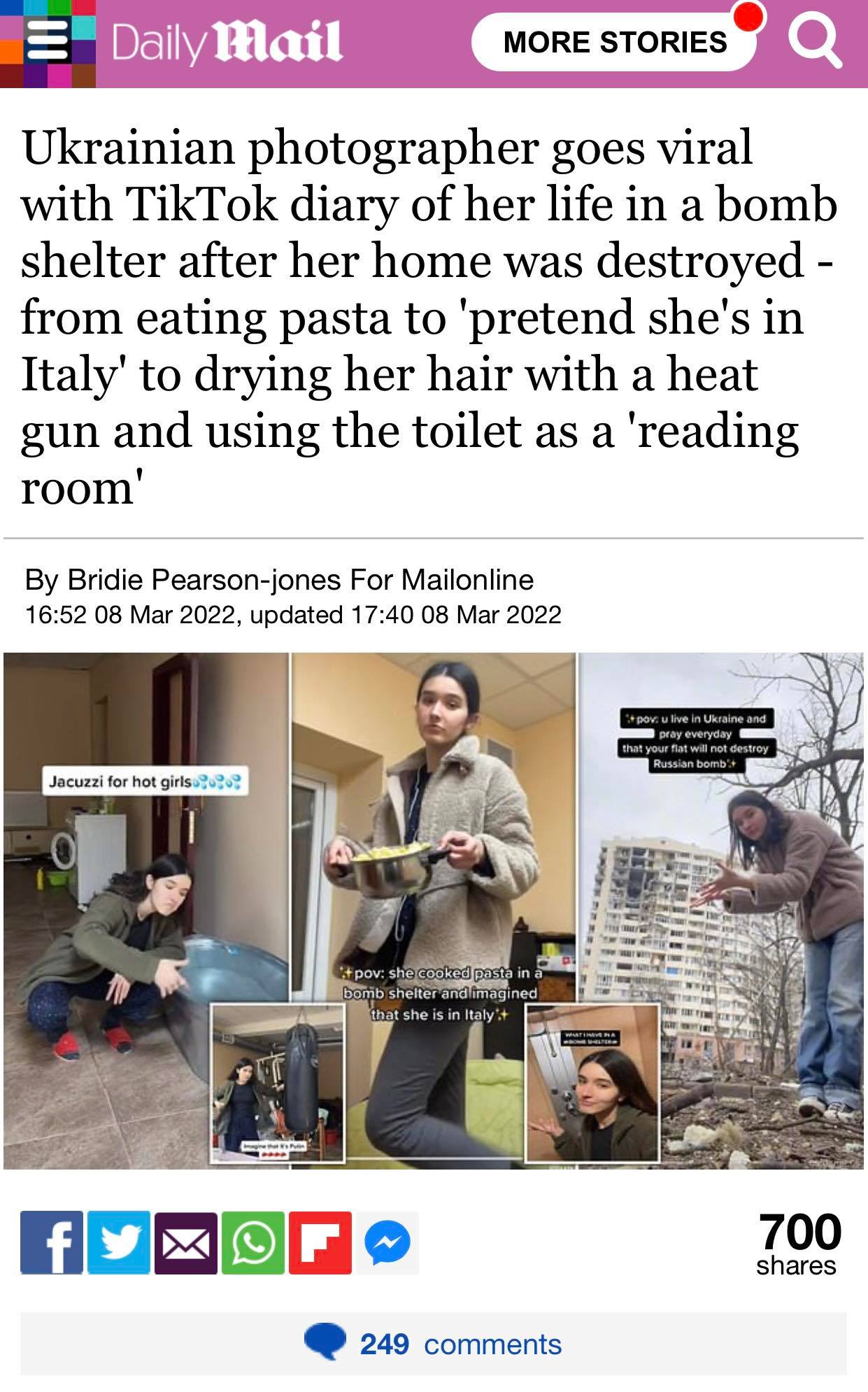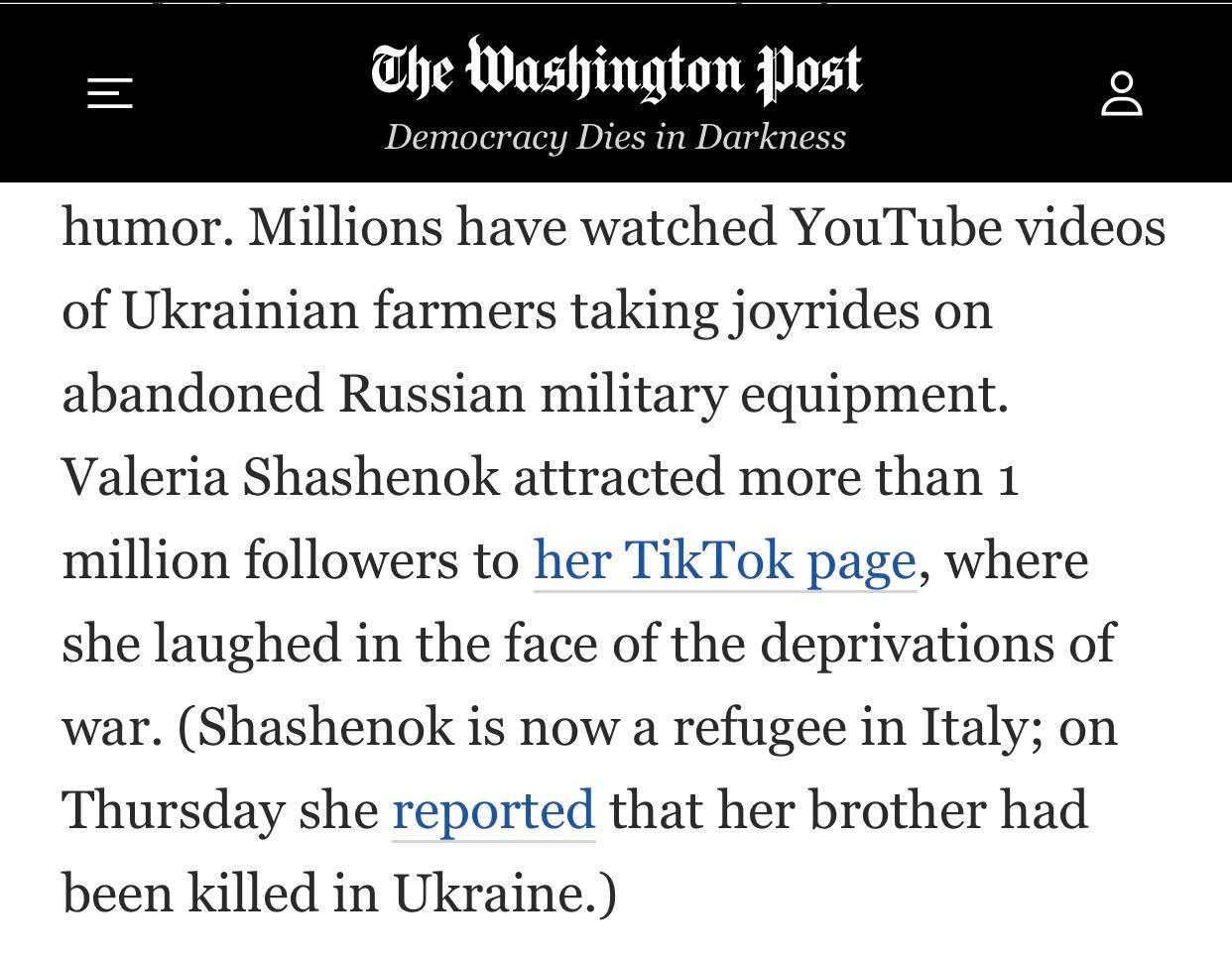 Read also:
"The fear went away, and I dared." The story of a paramedic from Luhansk region who saved ambulances from shelling
Valery Zaluzhny: 10 facts about the Commander-in-Chief of the Armed Forces of Ukraine
Canadian volunteer Wali about war and disappointment
19-year-old KPI student Oleksandra Anikieva died at the front
Kalush Orchestra showed a video for the song "Stephanie", shot in Bucha and Borodyanka
Became a widow after three days of marriage: a love story of defenders at Azovstal