"Tell us why they burned our city." Kharkiv under fire - photo report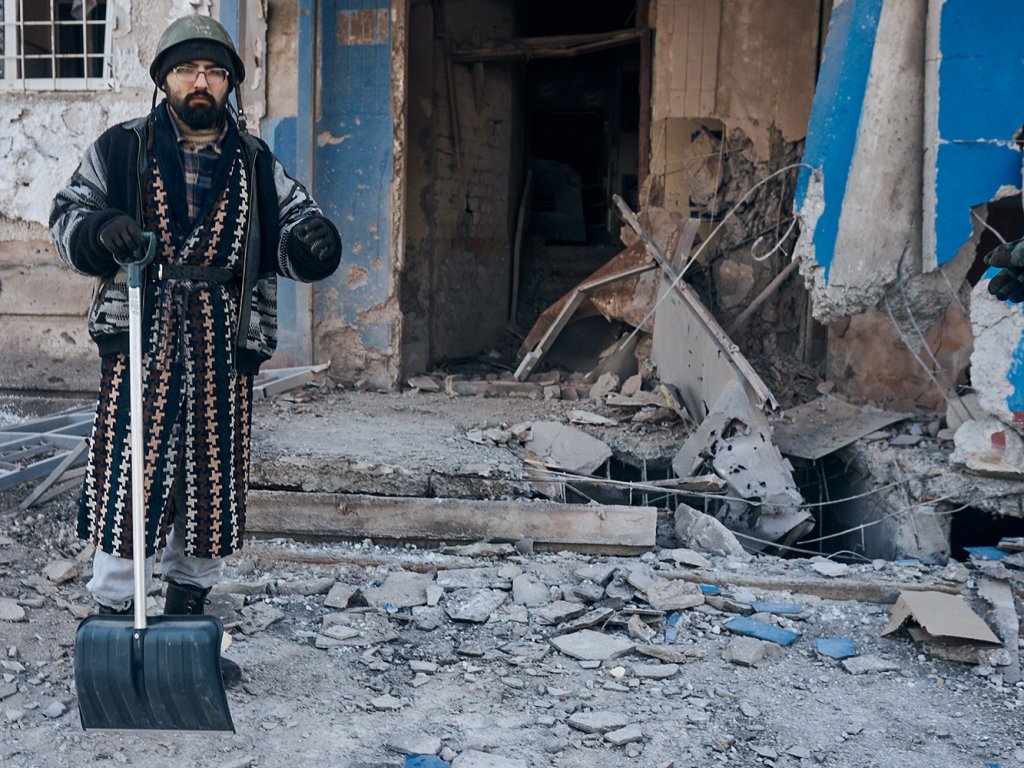 "We are photographers of love," say Konstantin and Vlada Liberova from Odessa . Before the war, they were engaged in wedding photography in their hometown. People get married even during the war. But Kostya and Vlada realized that now is not the best time for the Love Stories genre.
Their first trip last month was to Mykolayiv, the second to Kharkiv . Volunteers, servicemen of the Armed Forces of Ukraine, terrorists, and ordinary citizens are being removed.
- We did not see horror in Kharkov, - Vlada tells. - Horror is destroyed empty cities. We saw destroyed houses and people standing near the ruins and telling you: "Yes, we will all rebuild, everything will be fine."
… When words that can describe what is happening end, photographs and poems remain.
Ukrayinska Pravda publishes photos of Konstantin and Vlada Liberov and their short descriptions of what they saw and heard - in direct language.
The second voice in this report will be quotes from "the most Kharkiv" of Ukrainian poets - Serhiy Zhadan .
City center
Our city was made of stone and iron.

Each of us now has a suitcase in his hand.

In each suitcase ashes collected under the sight.

Now even in our dreams it smells like burnt.

…

Tell us why our city was burned.

At least say you didn't do it on purpose.

Tell me, at least, that the guilty will be punished.

Say at least something that will not be said in the news.

Sergey Zhadan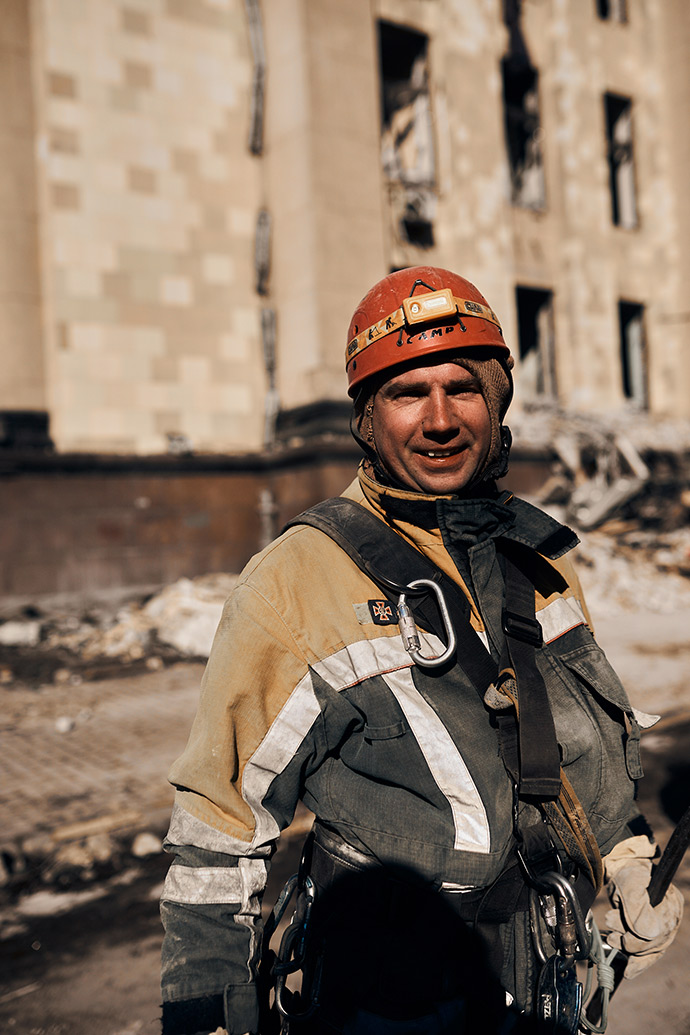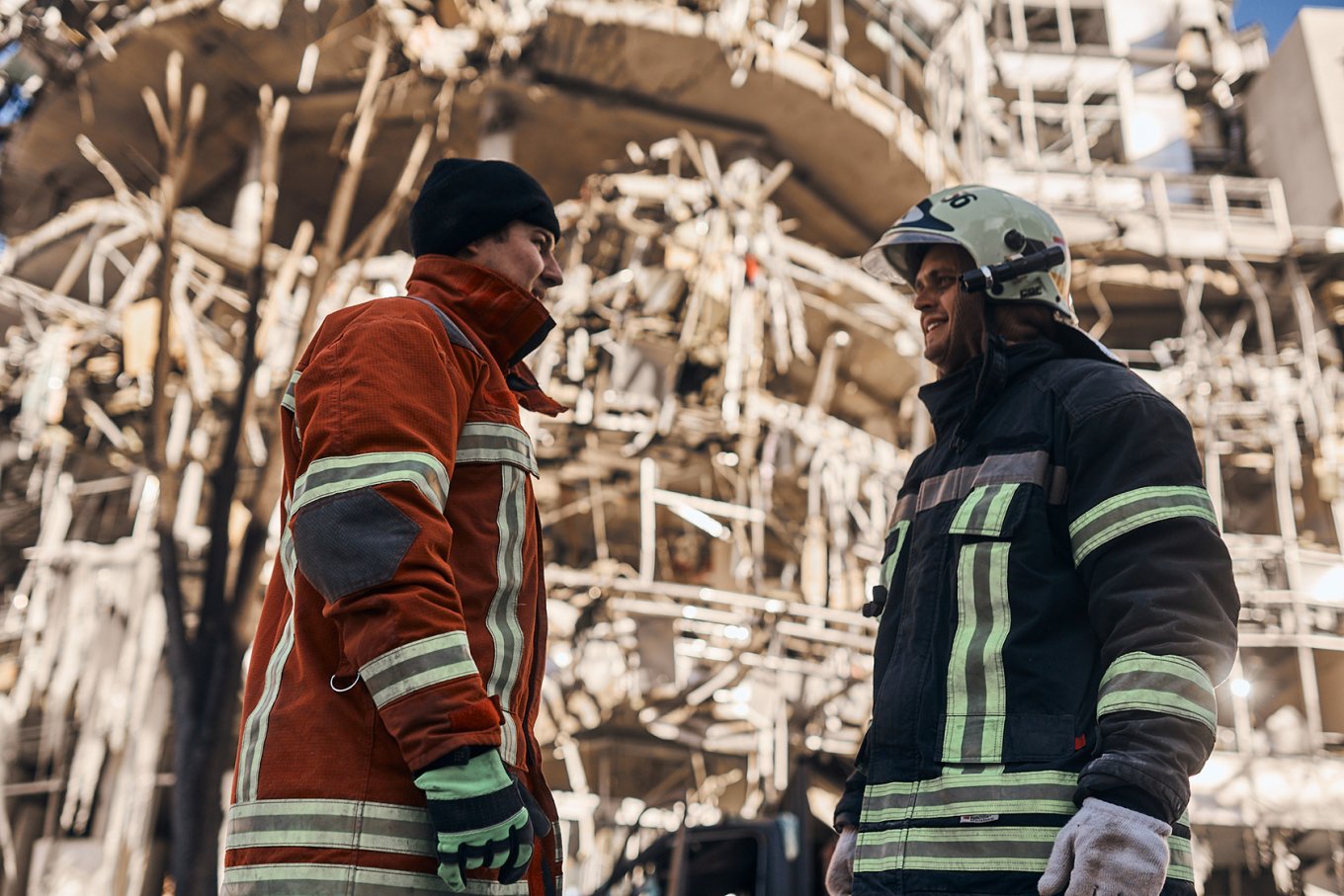 There is no safe place in Kharkiv today. There are areas that are constantly shelled, are less dangerous, but "flies" everywhere.
Only the facade of the regional state administration building on Freedom Square has survived. From the inside you can look at the sky - there is no roof. Now they are dismantling blockages, taking out garbage and remnants of documents.
Utility workers and SES staff are just some kind of superheroes. They quickly dismantle blockages, clean the streets and are very proud of their work.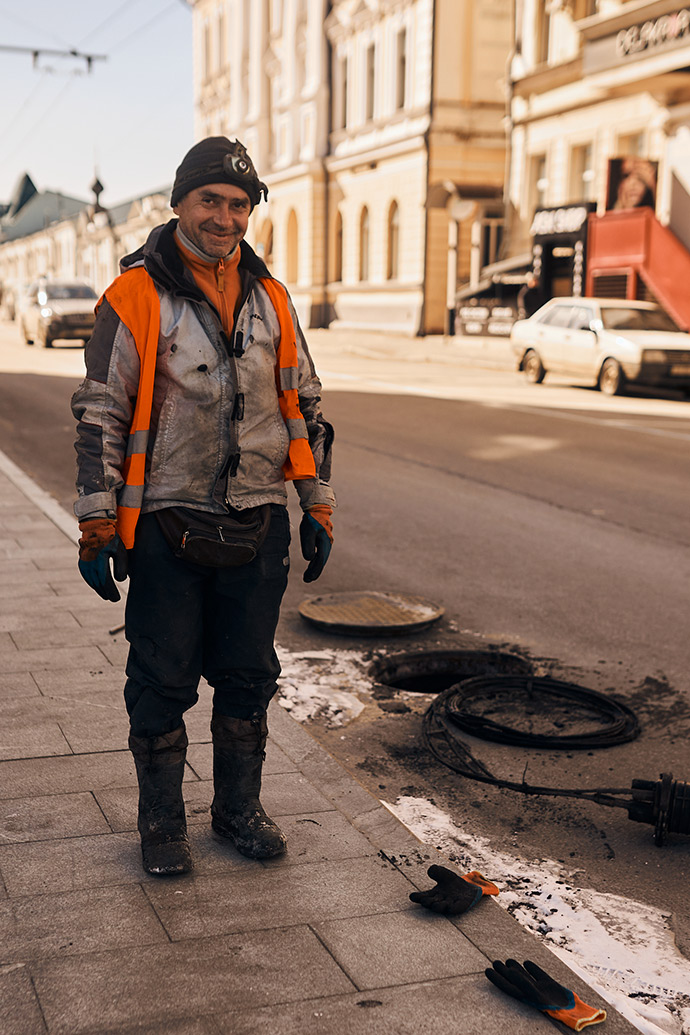 We met a communal worker who was repairing the Internet on the street. This seems absurd: in Odessa, when an explosion is heard in the distance, and most likely it works our air defense - a whole boil. When you come to Kharkiv, you hear more explosions in an hour than in 27 days in Odessa. At the same time, a man on the street thoughtfully, calmly and with a smile does something with fiber. This impressed us.
Sleeping areas: Saltivka and Horizon
The winds in April are becoming unbearable.

Satan inflames his black open-hearth trees.

The air is quiet, as if in a robbed church.

And it is unknown at this time what he will do after leaving the post

antenna sensitivity.

Clouds are now over the city like chimeras.

Dead now in the sky, as if in a massacre.

The antenna catches from the atmosphere on the third day

signals of love are invisible and reliable.

Sergey Zhadan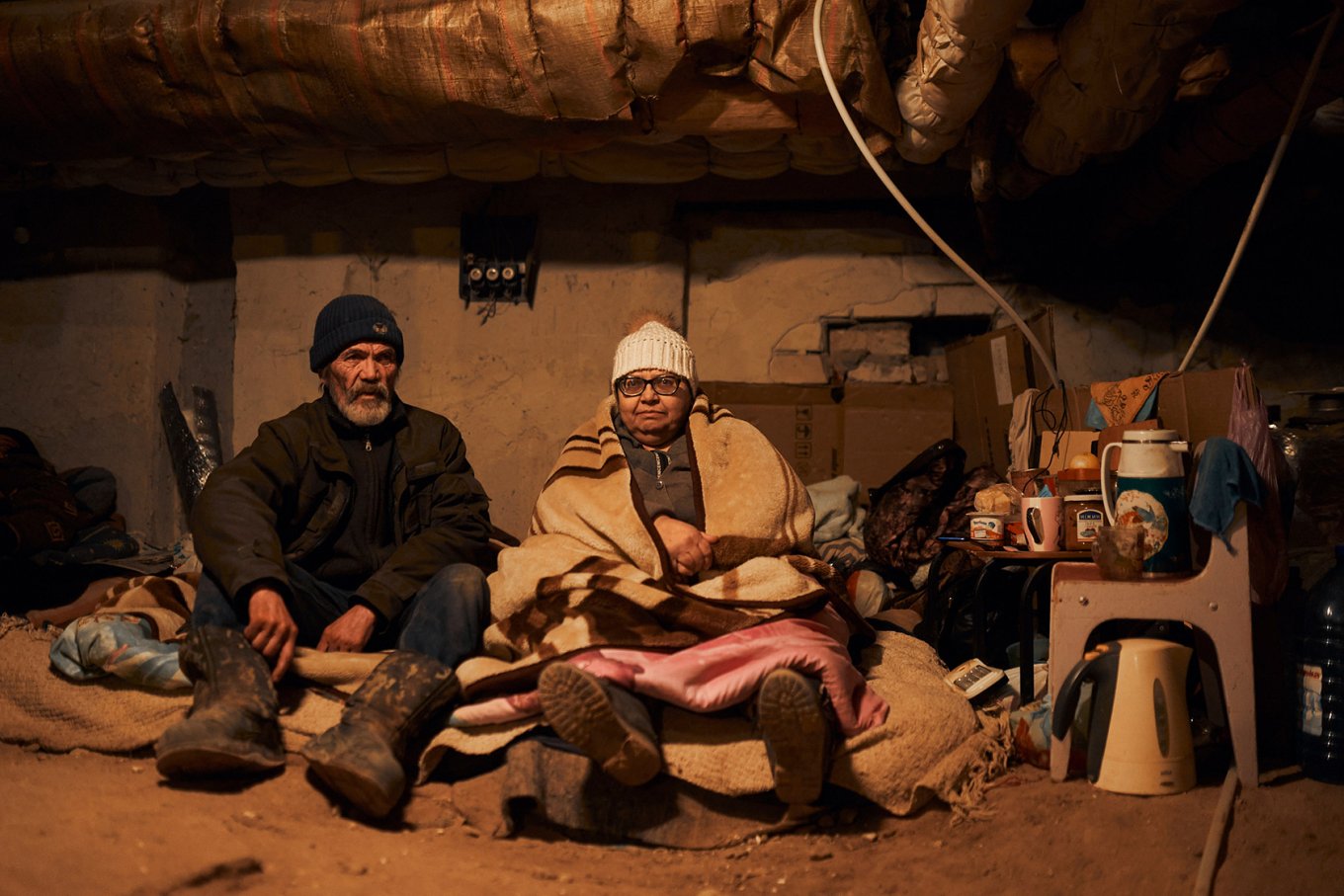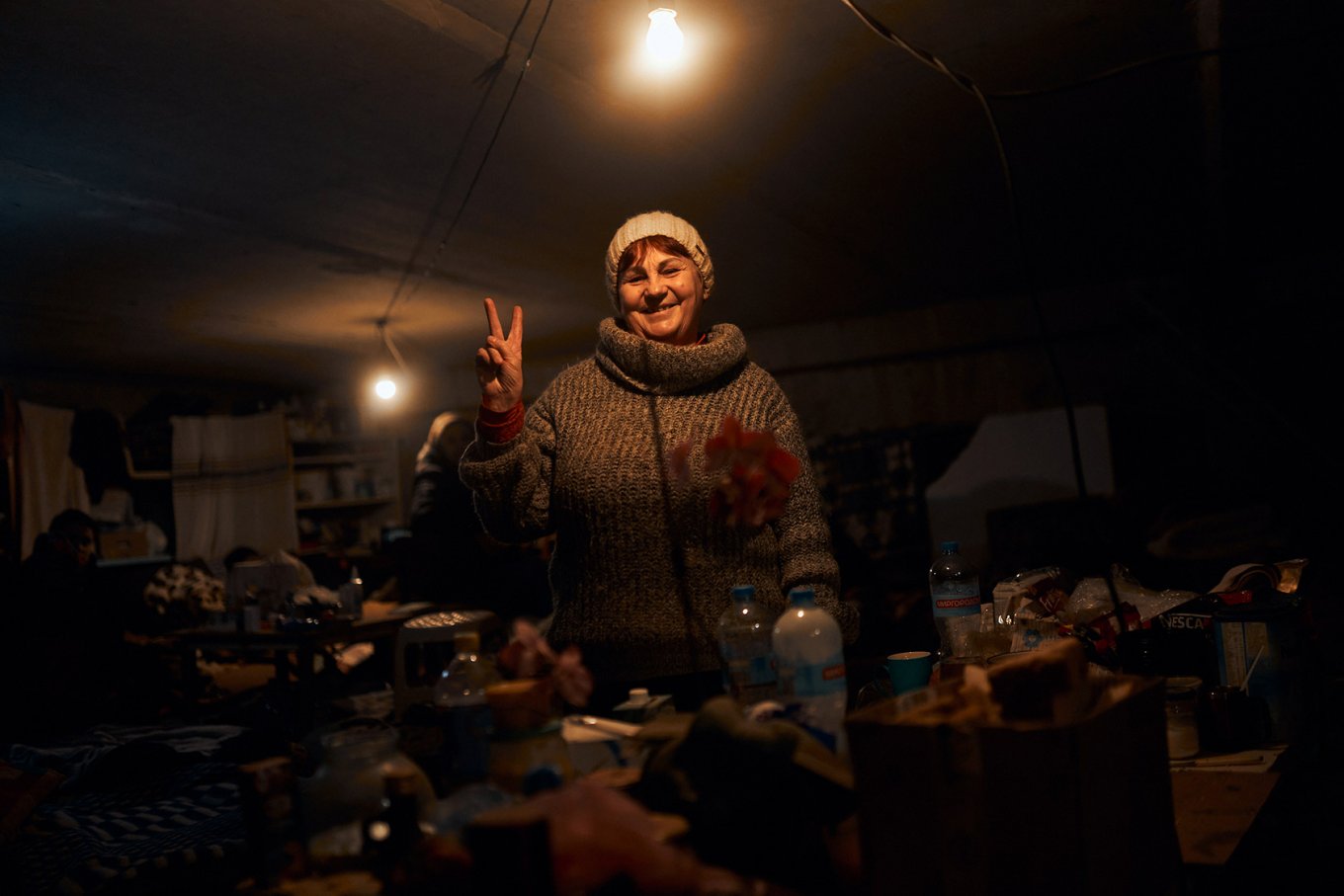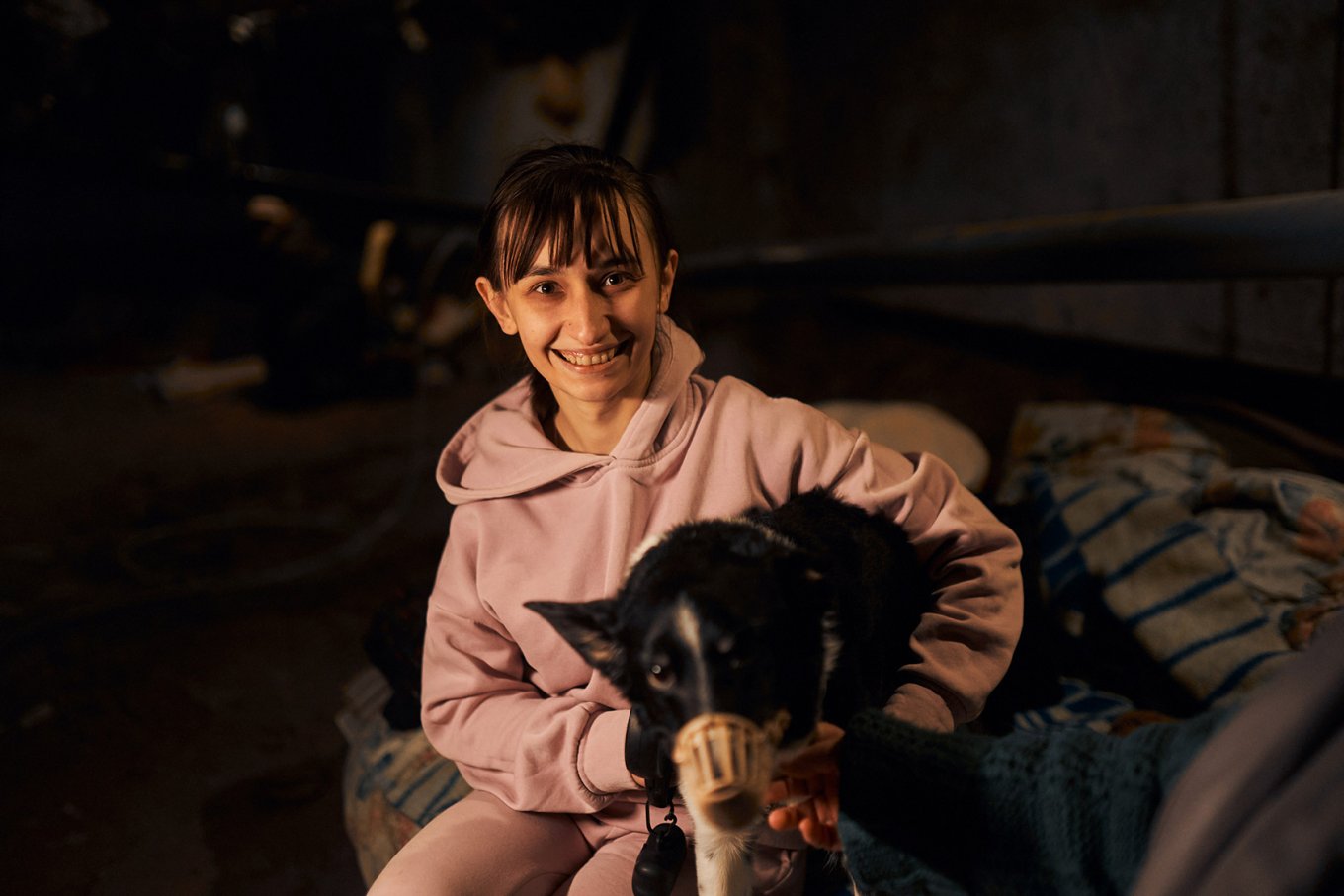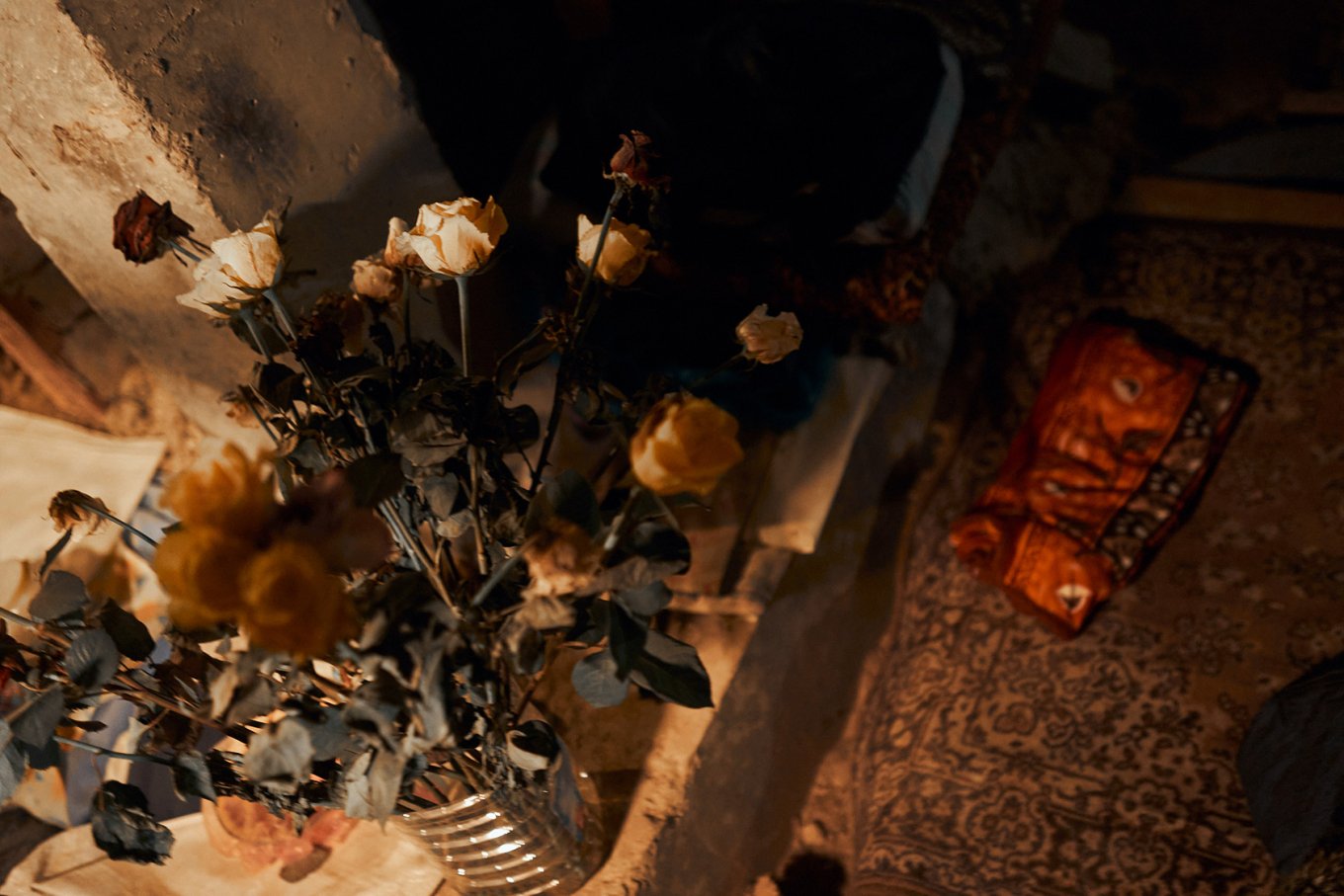 This is the basement of a kindergarten in the Saltivka district of Kharkiv. Technical room for pipes and communications. About 50 people have been living here for a month now.
The bomb can arrive here at any moment and will most likely arrive sooner or later - the shelling of Saltovka does not stop.
People refuse to move to the subway, where more comfortable conditions. After they went through hell together, a community was formed here.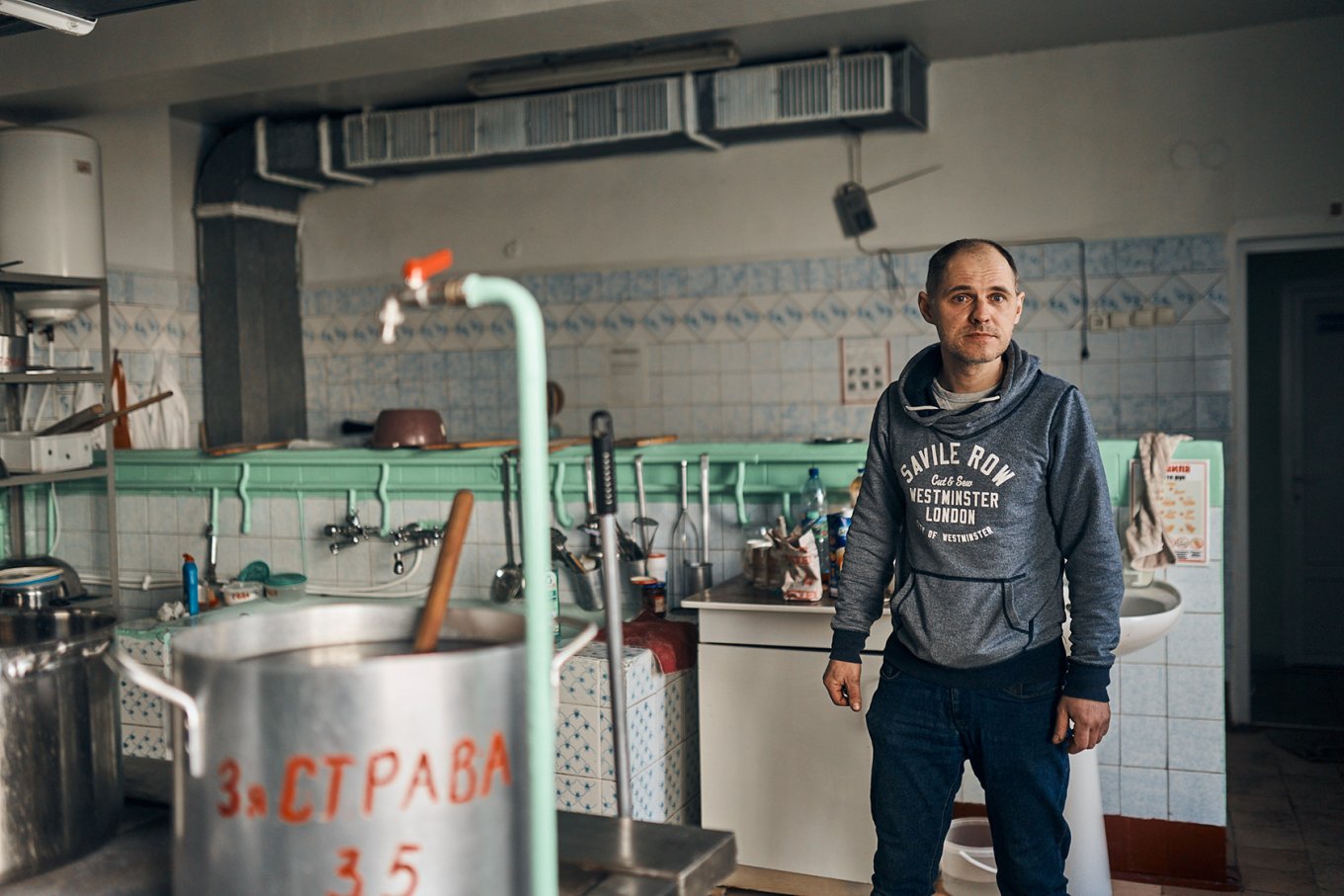 Before the war, Yuri had nothing to do with this kindergarten. Just a man from the street, who organized a life in the basement for fifty people. Made an oven, wiring, installed a toilet. He contacted volunteers and organized the delivery of humanitarian aid. They have a lot of food now, and when we went down there, we were greeted with the words: "Come on, we will have hot soup now."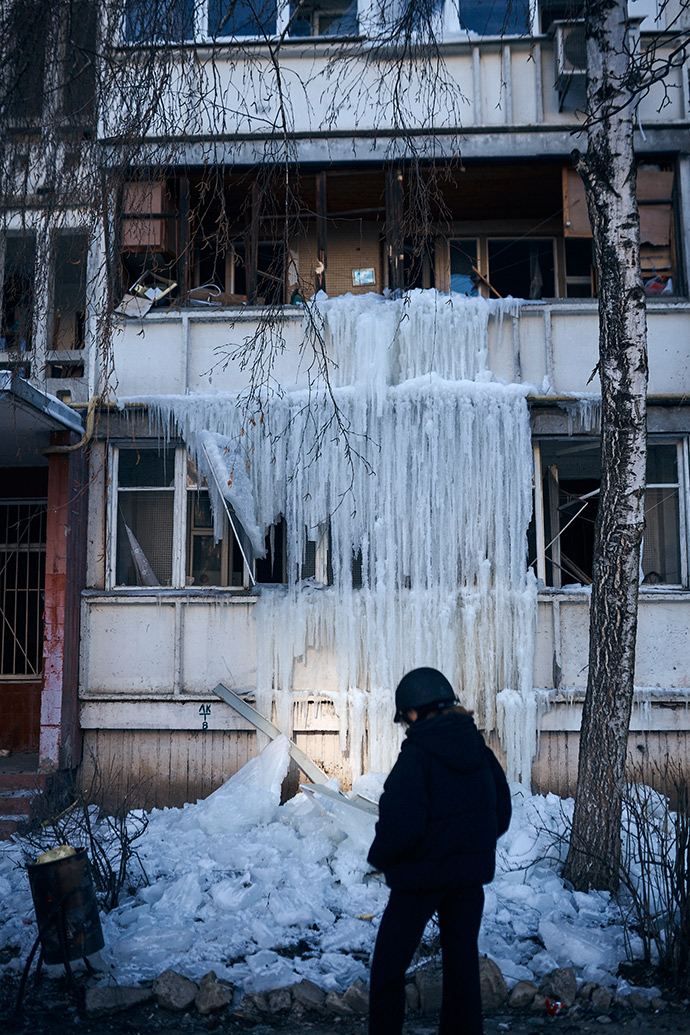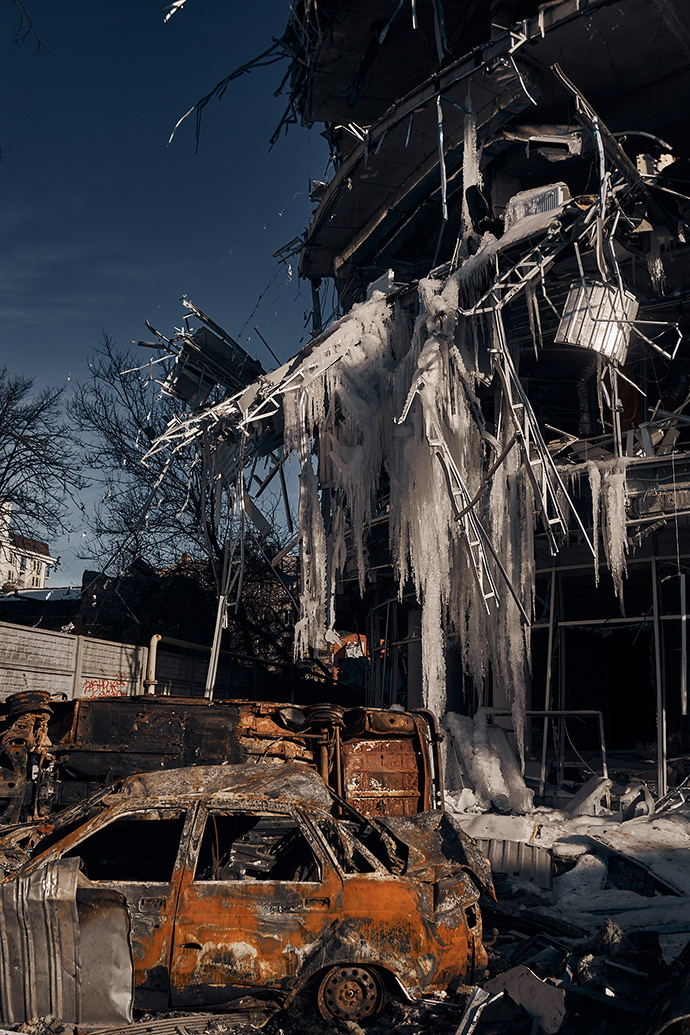 In these houses windows were broken, pipes broke, all communications were destroyed. There are many such houses in Kharkiv. Everyone who could and wanted to leave these houses left. Those who remain seem to live in their parallel reality.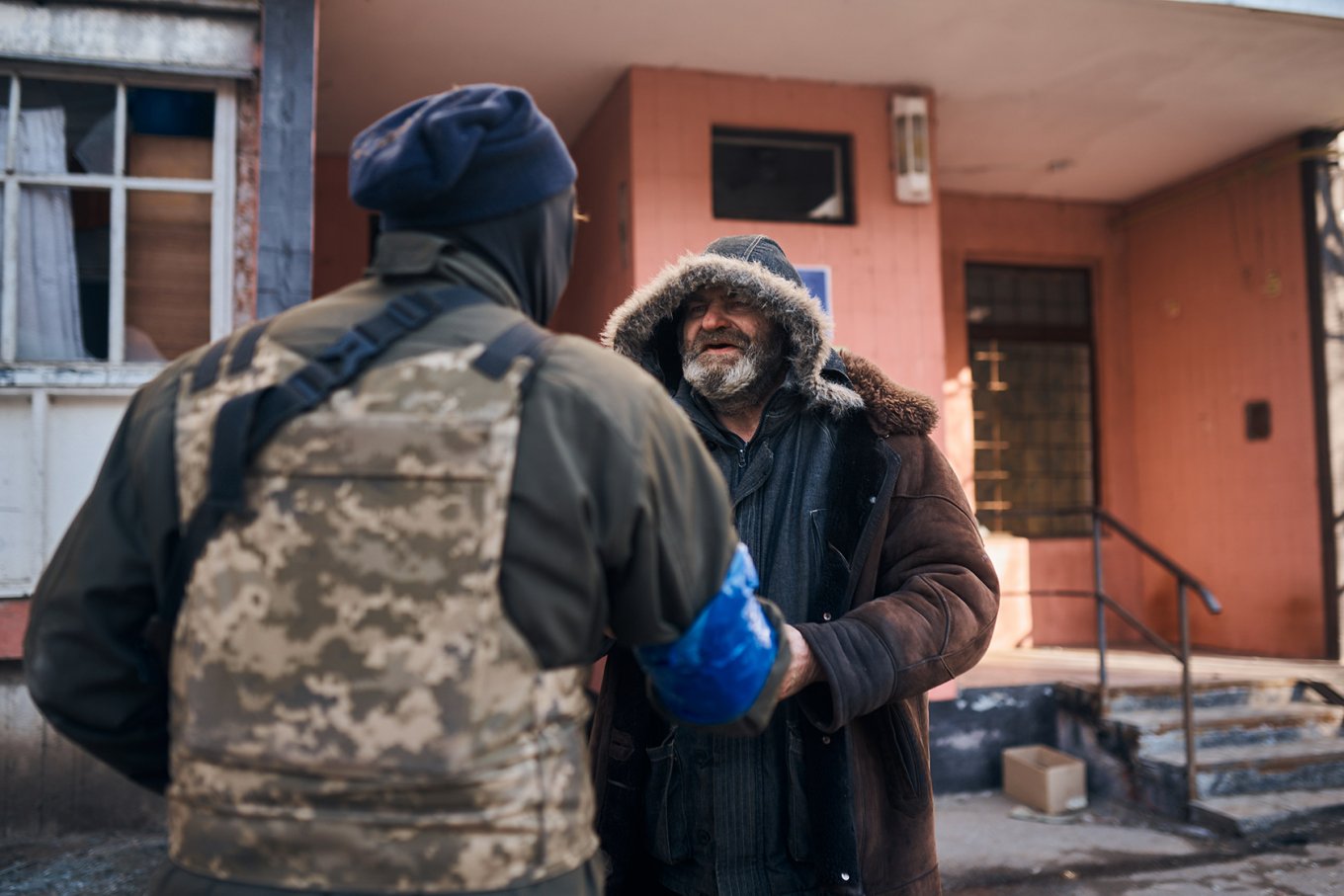 A volunteer brought us to Saltivka and said: "You have 10 minutes. If we don't leave in 10 minutes, we will most likely come under fire."
To our question "why did you go outside?" the man replied, "If you hide, you'll have to sit in the basement all day. I usually sit at home, and now I'm out in the fresh air." His apartment has no heating, no electricity, no water.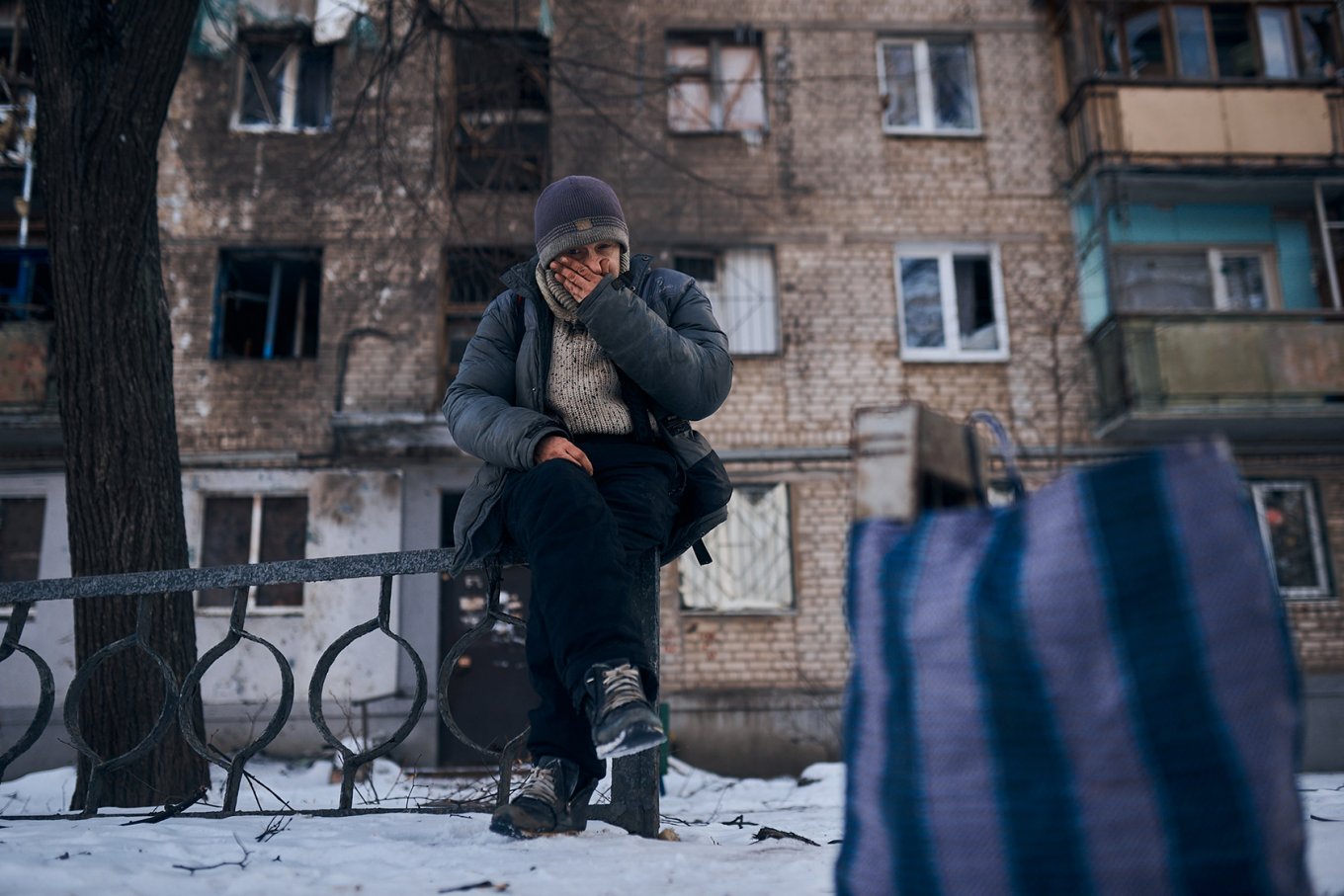 Another resident of the North Saltivka district. He could move to the subway or basement, but decided to stay at home. Somewhere he found a stove, and is going to go to his sister to cook some food.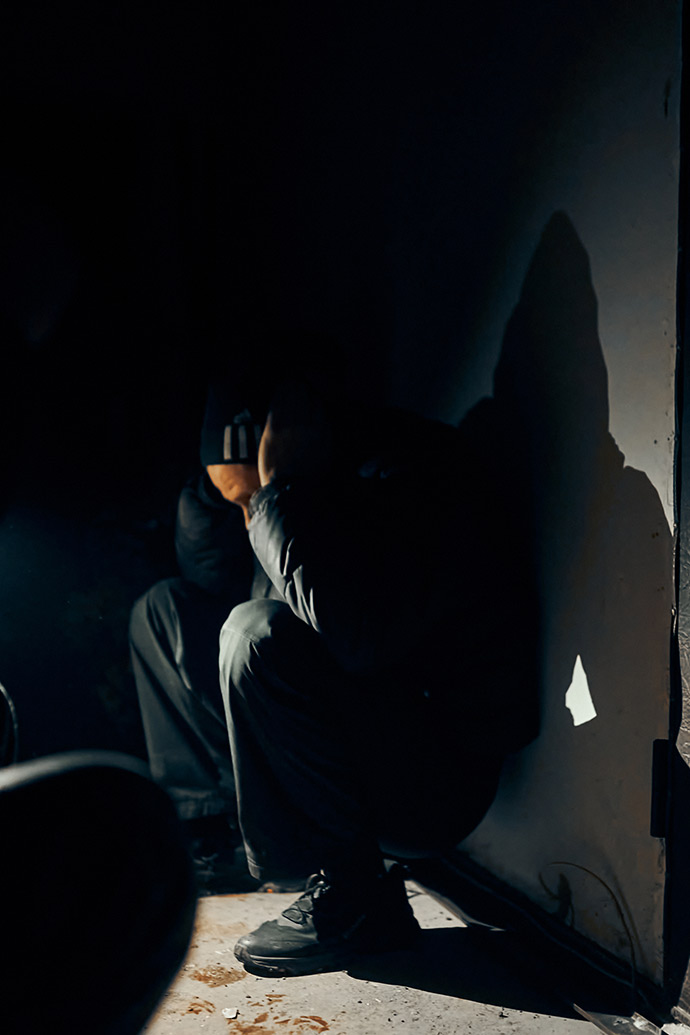 The only resident of one of the houses in Saltovka is hiding in the entrance during the shelling.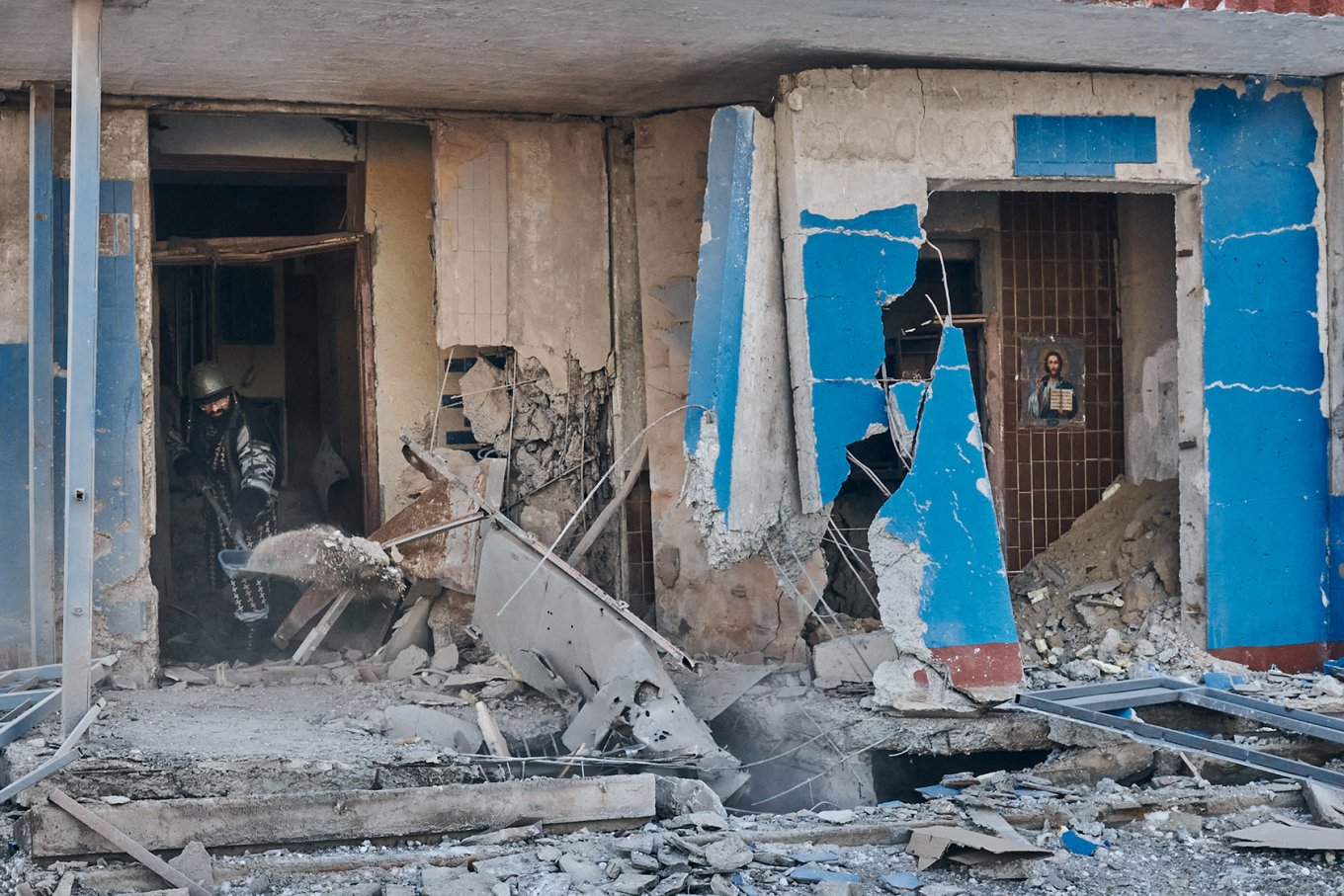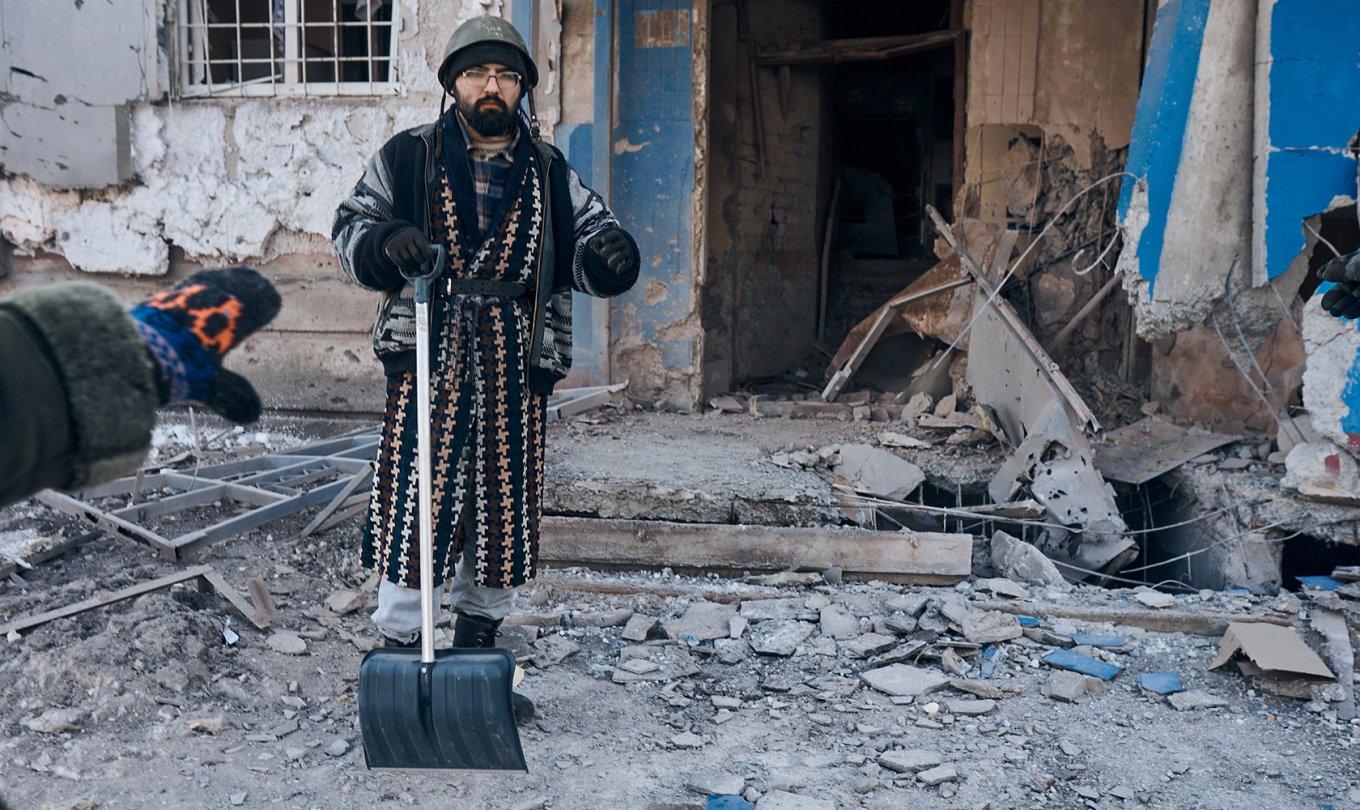 Kharkiv district Horizon. You get out of the car and feel the air tremble. Not only from bombs, but from tension. There is such a phrase - the projectile does not fall twice in one funnel. It doesn't work here - the shells fall into the funnel twice or thrice.
People also stayed here. To the question: "What are you doing here under fire?" this man in a helmet and robe with a shovel in his hands replied strangely: "There is action and there is opposition."
This is the true face of war. The only thing these people can do now is clear the rubble of their ruined lives.
Underground
Autumn over them from ice and steel.

Cold rivers, strangers.

Most of all, they are afraid that all this will continue.

Most of all, they are afraid that nothing will happen again.

Sergey Zhadan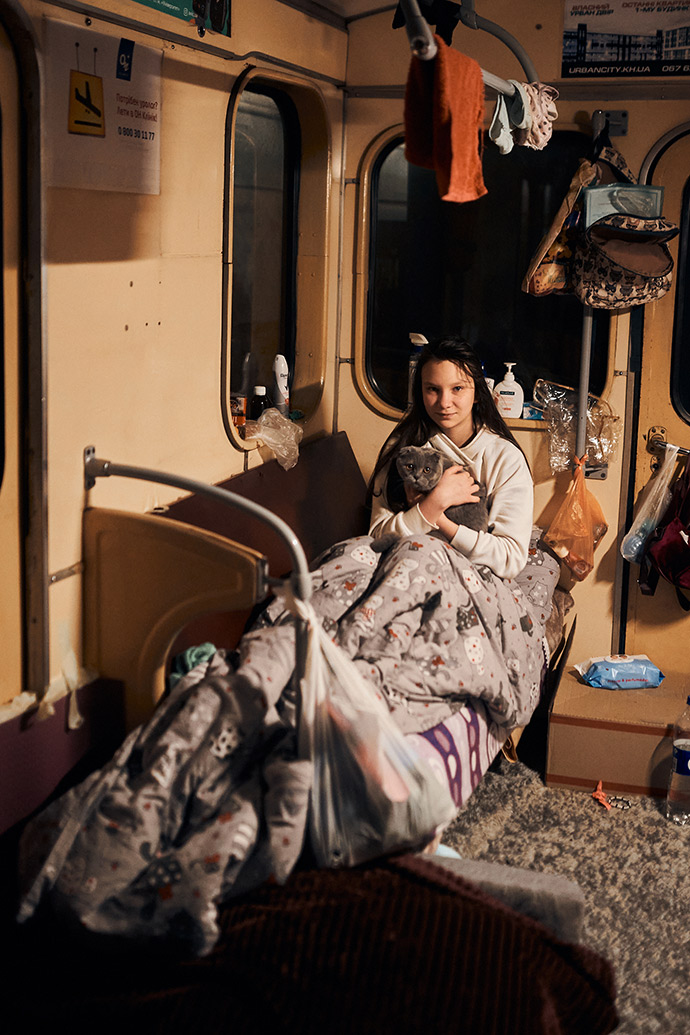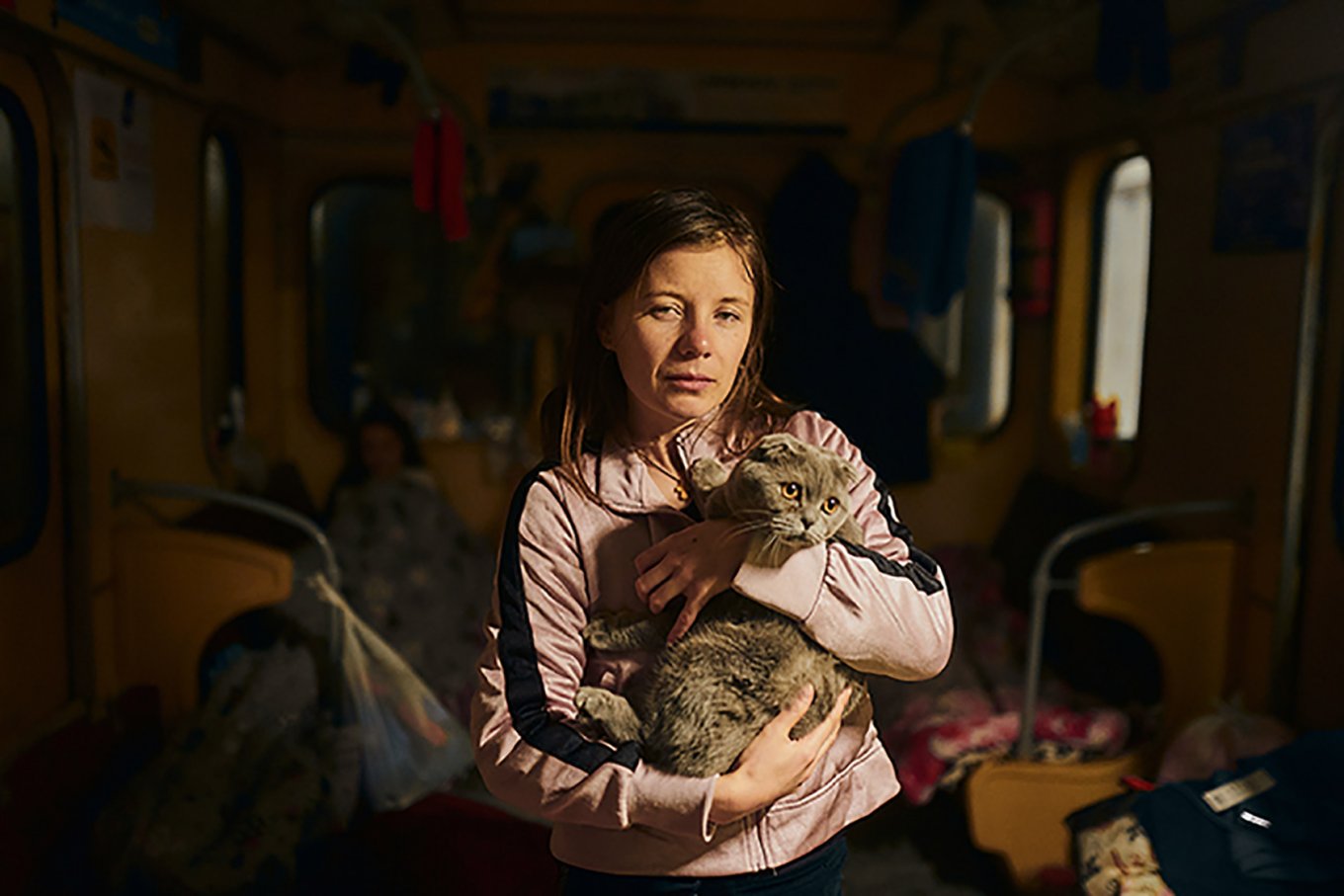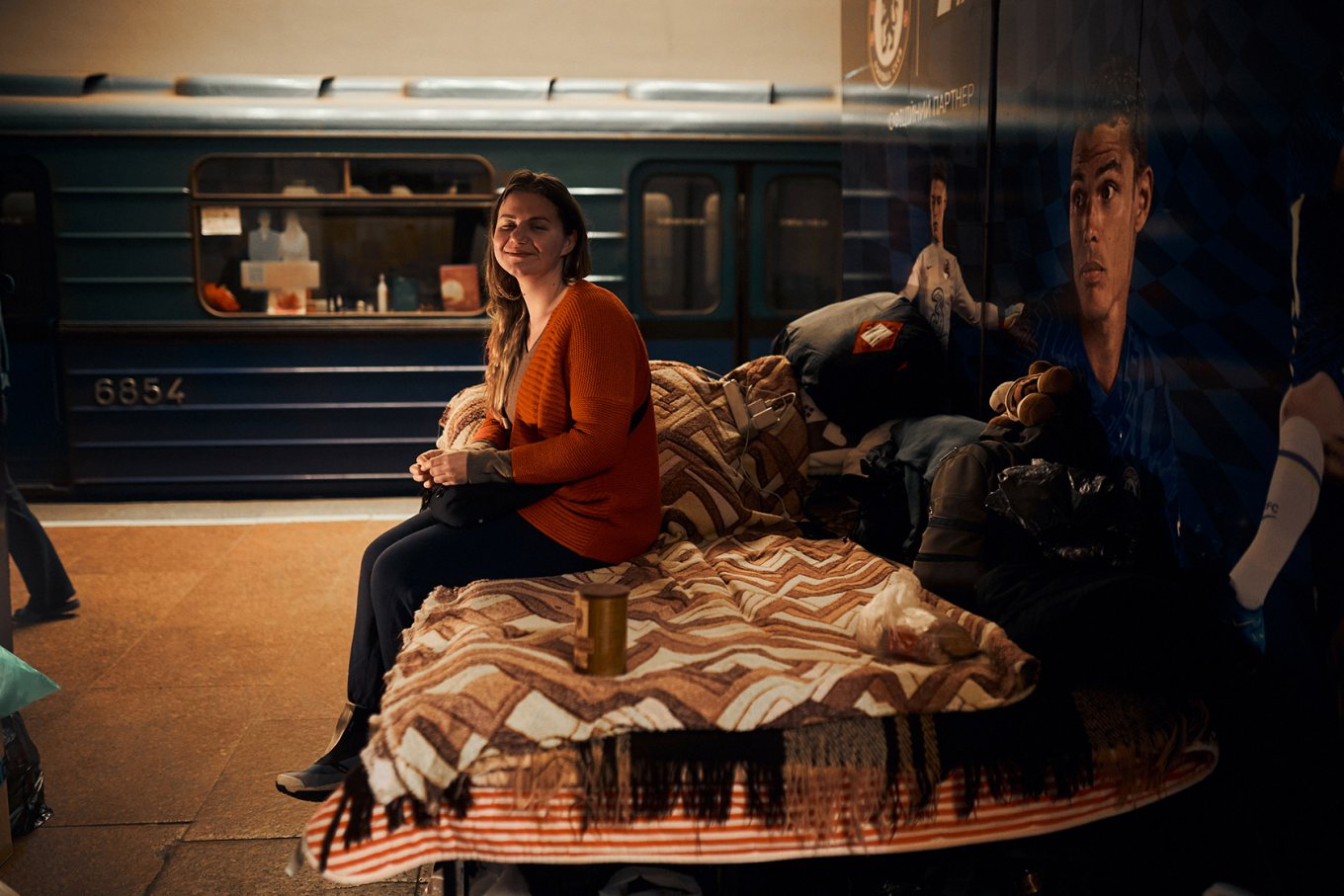 The city center is the metro. Compared to the cellars of Saltivka, as paradoxical as it may sound, it is cozy. People arrange subway cars.
As we understand, there are many wealthy people among these people. When asked why they did not leave Kharkiv, they answer - what the hell are we going to leave our hometown? They are waiting for an opportunity to start rebuilding the city.
Those who are now hiding in the subway are mostly people who have been "broken" by the sound of planes. Everyone we spoke to remembers this experience with horror. Until the end, they lived in their apartments in the city center, went to the bomb shelter, but after the bombing decided that the subway is safest.
"Earl"
In the past tense, names are mentioned,

in the past tense most verbs

in the past, territories are written, but war

is written in the present

and with a small one in each of the letters.

Sergey Zhadan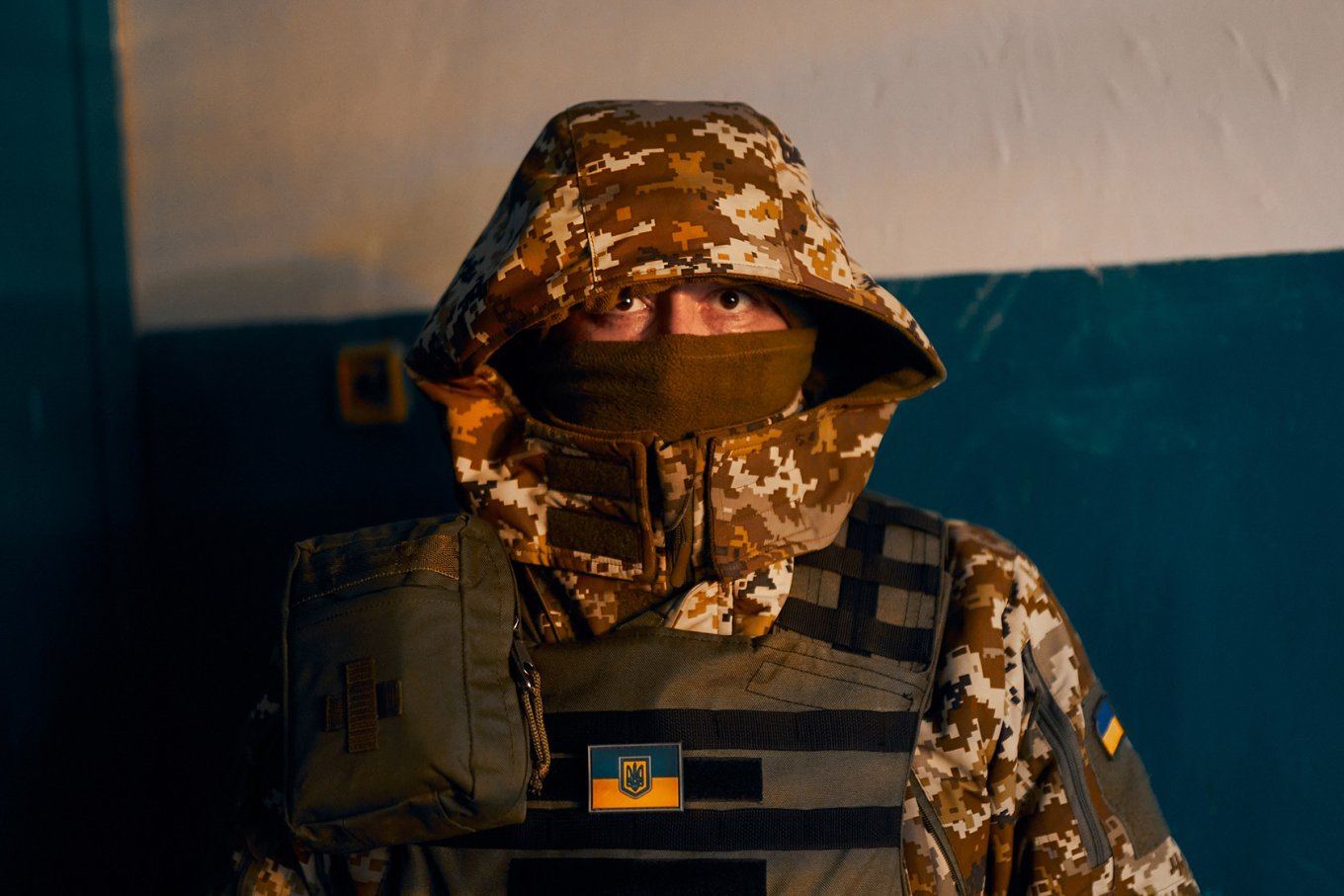 This is a fantastic man from the Terrorism with the call sign "Count". He saved our lives.
We quickly learned one thing - hear the whistle, lie down, cover your ears with your hands and open your mouth. But you still don't have a reflex connection between these events. We need someone who shouts "go to bed!".
We came to Saltivka with volunteers to unload the "hedgehogs", in parallel we are repairing the wheel that was punctured. Explosions can be heard somewhere far away, but you get used to it.
And at some point, "Count" begins to shout: "Inside and fall!" We managed to run to the fortified entrance, fall to the floor and close our heads.
"Count" has its own story of how he got to the defense. On the first day of the war, he took his family, wife and seven-year-old daughter, took them out of town to the country, left their car and returned to the city on foot. Unsuccessfully knocked on several military registration and enlistment offices and the next day "attached" to the defense.
He showed us a message on the phone with a picture of his daughter.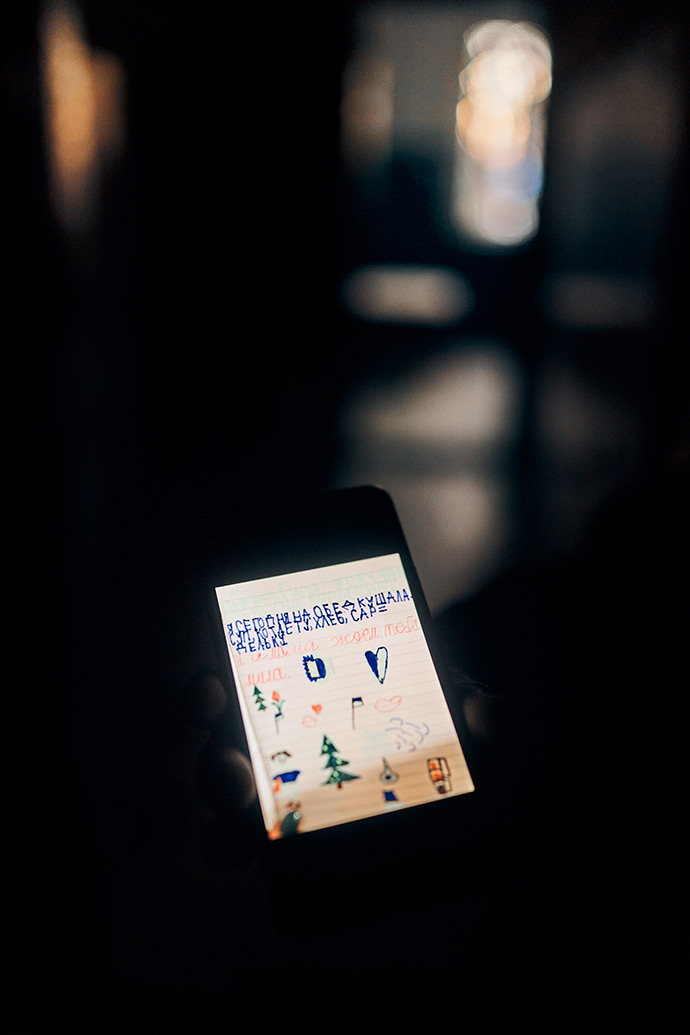 Then he looked at us and said, "I cried like a bitch when I saw this message. Now you know what the hell I'm here for."
Volunteers
Well, now they don't say

do not communicate.

And they live as if in river water:

hard but moving

it's hard, but you're still breathing.

Fish are similar to telephone handsets -

you put it to your ear and hear nothing.

At such a depth

no connection at all.

Sergey Zhadan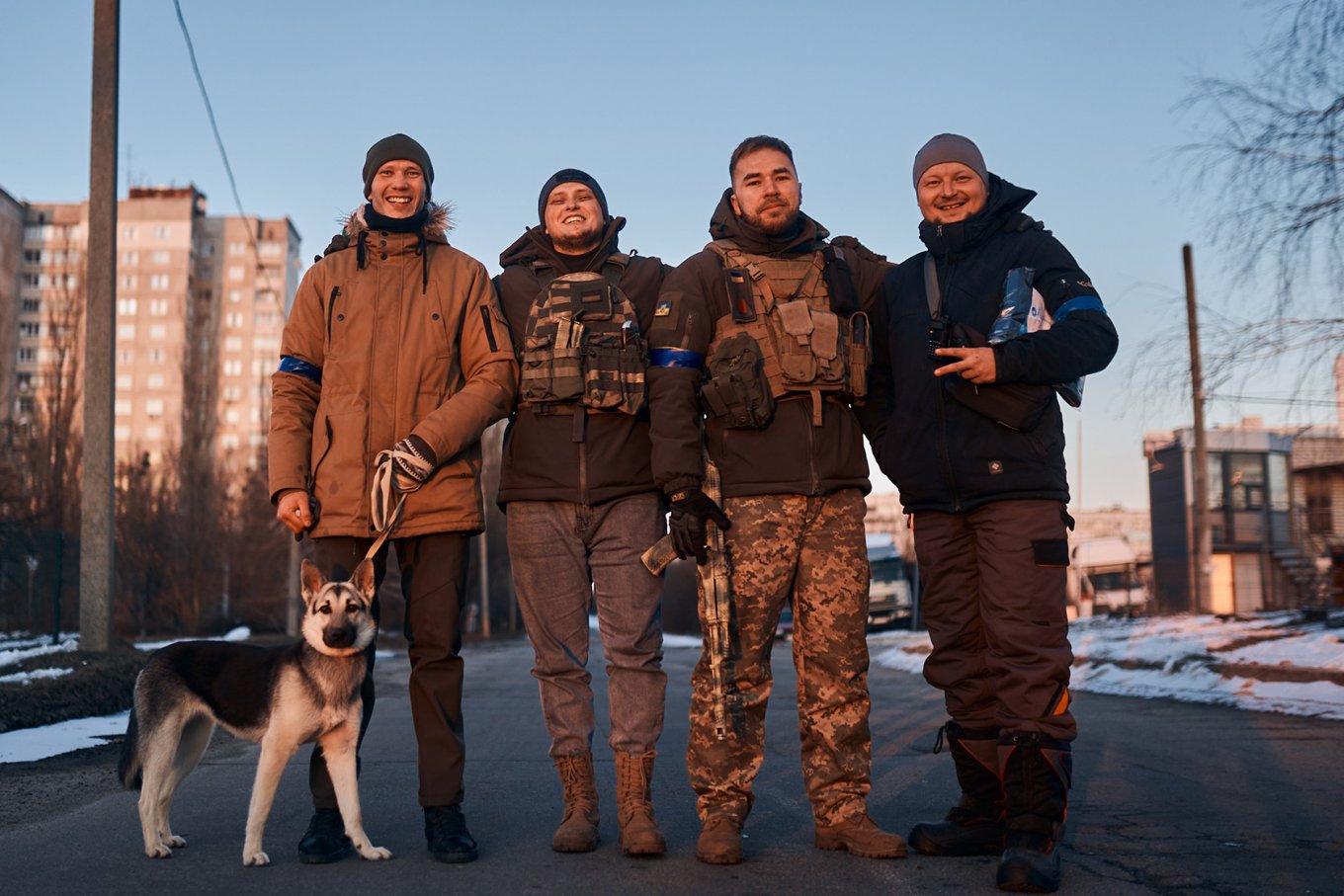 Our "guides" in Kharkiv and local volunteers Sasha and Dima (pictured in the center). Every day they "ride" the hot spots of the city and risk their lives no less than the guys from the Terror Defense.
They are classmates and best friends. On the day the war broke out, they met at Sasha's parents' private home because the house was in a relatively safe area. Dima's mother now lives with them.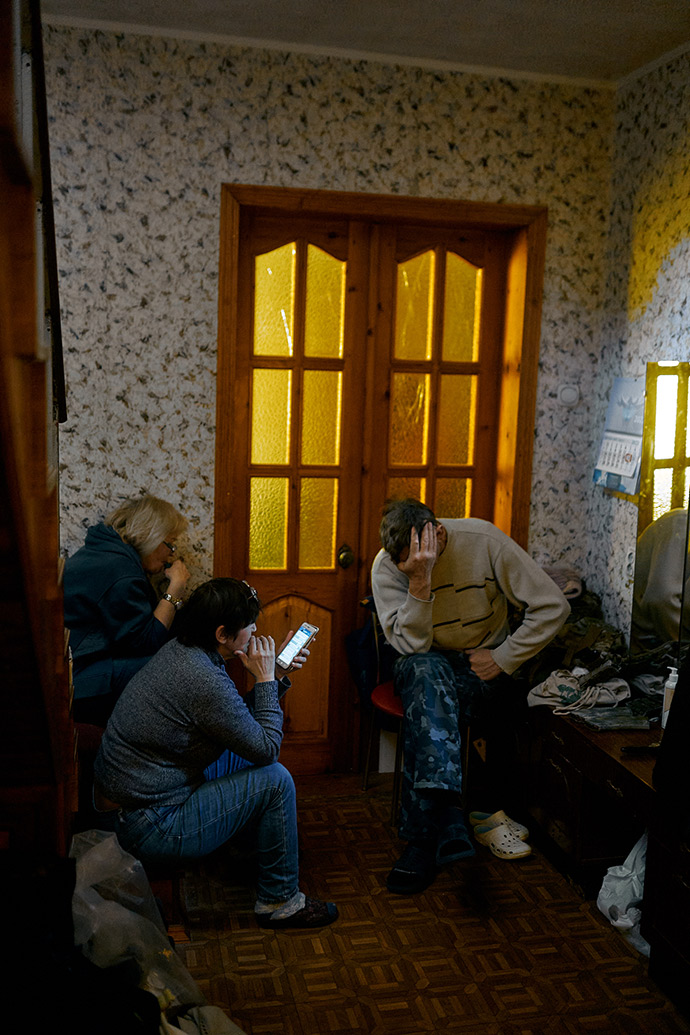 Sasha's parents and Dima's mother. In this position, they are constantly sitting in the corridor - the safest place in a large house, reading the news of local telegrams and waiting for children. Every day, when they let their children go home, they do not know if they will return. Every blast they hear can mean that their boys will not get home. They do not allow themselves to despair, but when they stop joking nervously, you feel how tense they are.
This shot is probably one of the most important for me. When we were lying in the entrance of the house on Saltivka, covering our heads under fire, the only thought was that my mother would kill me. At that moment, I realized the absurdity of the situation - my mother will not be able to kill me, because I will most likely be killed in this house. And here in the apartment of the parents of volunteers, I saw the reverse side of this story. How does my mother, who lives in Odessa, feel?
"Odesa"
Time, like the skin of a tired man,

wrapped in state flags.

Deep winter time, great.

Where February ends, scars appear.



White notches of pain among the black snow.

Deep scars, always reminiscent of winter.

Death, like a woman, holds the intrigue to the end,

having no indulgence or restraint towards you.

Sergey Zhadan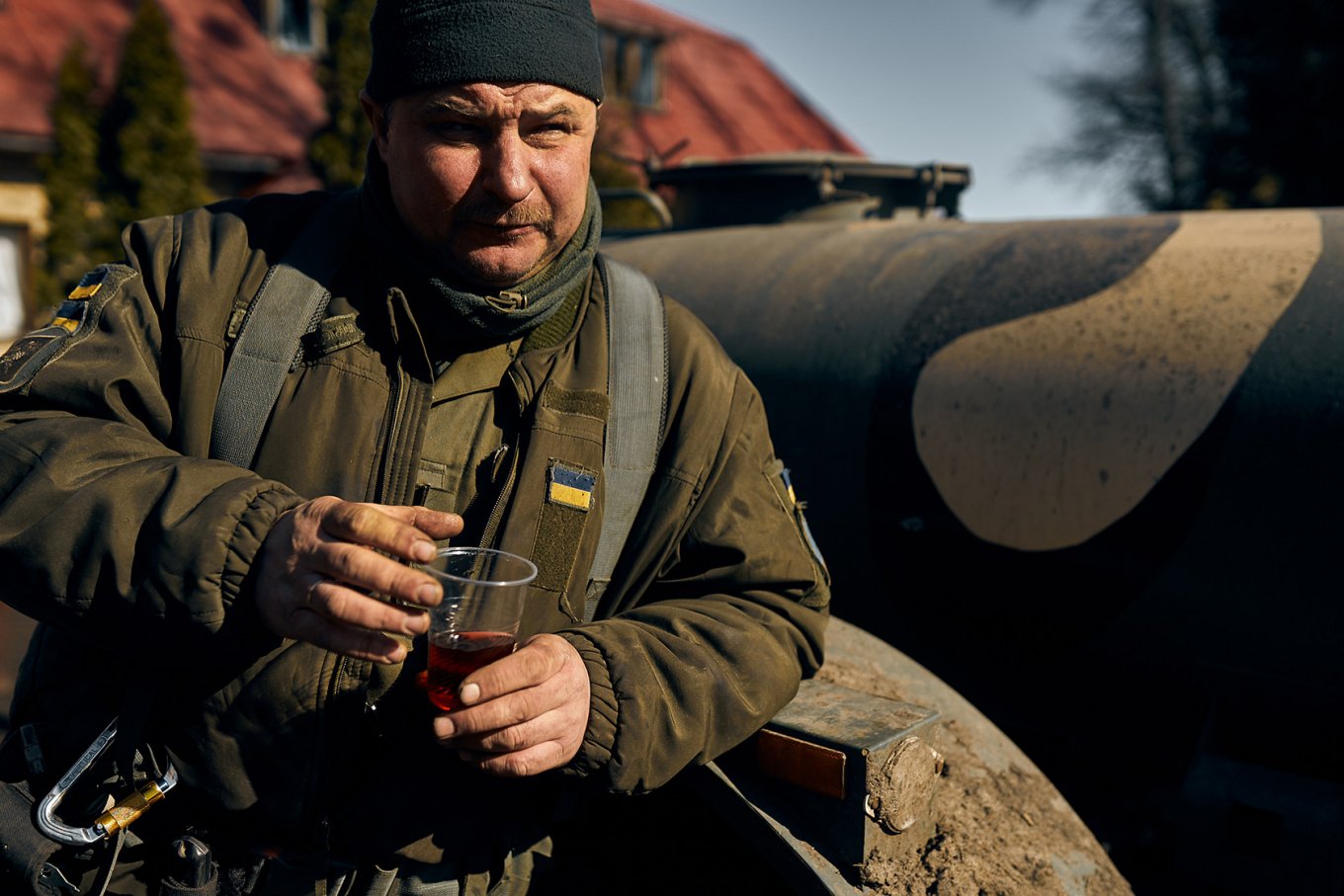 This is a Kharkiv resident, nicknamed "Odesa", because he was born in the Illichivsk region. In pre-war life - a teacher of labor. We asked him what he wanted to do after the victory. He replied: "How what? Continue to teach children."
He told us the story of how the battle took place, and in front of him a young man, our soldier, tripped and fell. "Odesa" thought that the guy was killed. A strong, brutal man, he had tears in his eyes when he remembered that our boy could die.
"Odesa" disassembled the duffel bag of the murdered Russian riot policeman. You see - here he was reading a book, here is his cap, T-shirt, here are his notes and drawings. This is not pity for the enemy, he got what he deserved. But at this moment you are acutely aware of the absurdity of war, which has no objective reasons.
"Odesa" said that it collects all these things for the museum, which will be made in its school after the war.
Postscript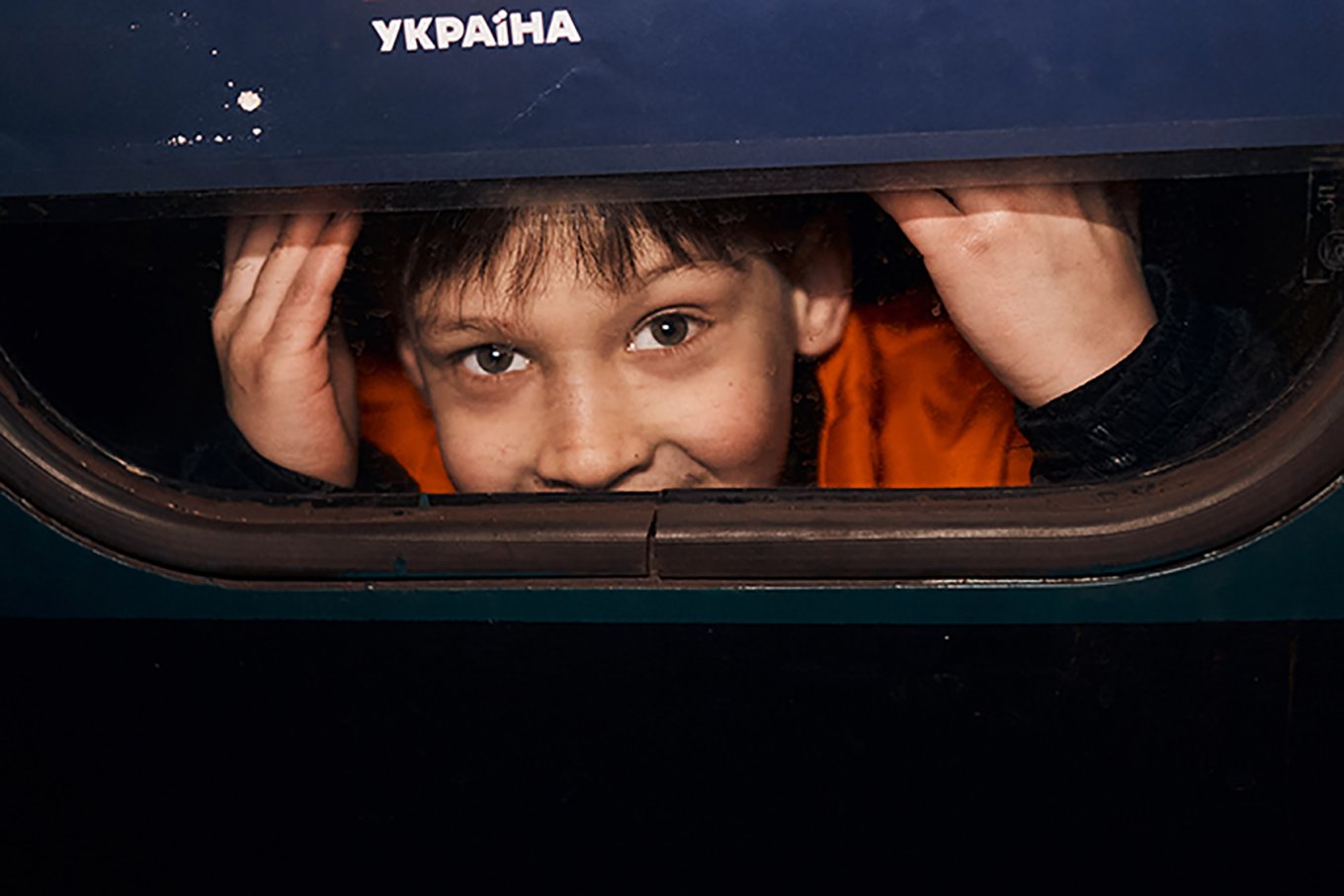 Maybe we were so lucky, but during the three days we were in Kharkiv, out of hundreds of people we talked to, only 2-3 were demoralized.
It may sound like propaganda or a set of inspiring stamps. We understand how that may sound. But it's true, it's damn true.
And the defense, and the Armed Forces, and just citizens, adults, children, they believe in victory and know that they must stand for the city. This emotional uplift is truly impressive.
Recorded by Mikhail Kriegel, UE
Read also:
Hryhoriy Kozlovskyy and the "movers" handed over 30 mobile fire groups to PvC "Zachid" - for 3.7 million hryvnias.
The International Fencing Federation "killed" Ukrainian Olga Kharlan because Russian money is more important than peace
Russian soldiers killed a famous Ukrainian writer. She documented the crimes of the Russian army
The Lost Lives Behind Zelensky's Call to Ban Russian Athletes from the 2024 Olympics
Kira Makogonenko, 14-year-old Kharkiv girl shocked the boxing world (VIDEO)
Petr Pavel wins the Czech presidential election. Why it is important for Ukraine