Gunners showed how MLRS strikes at the Russian occupiers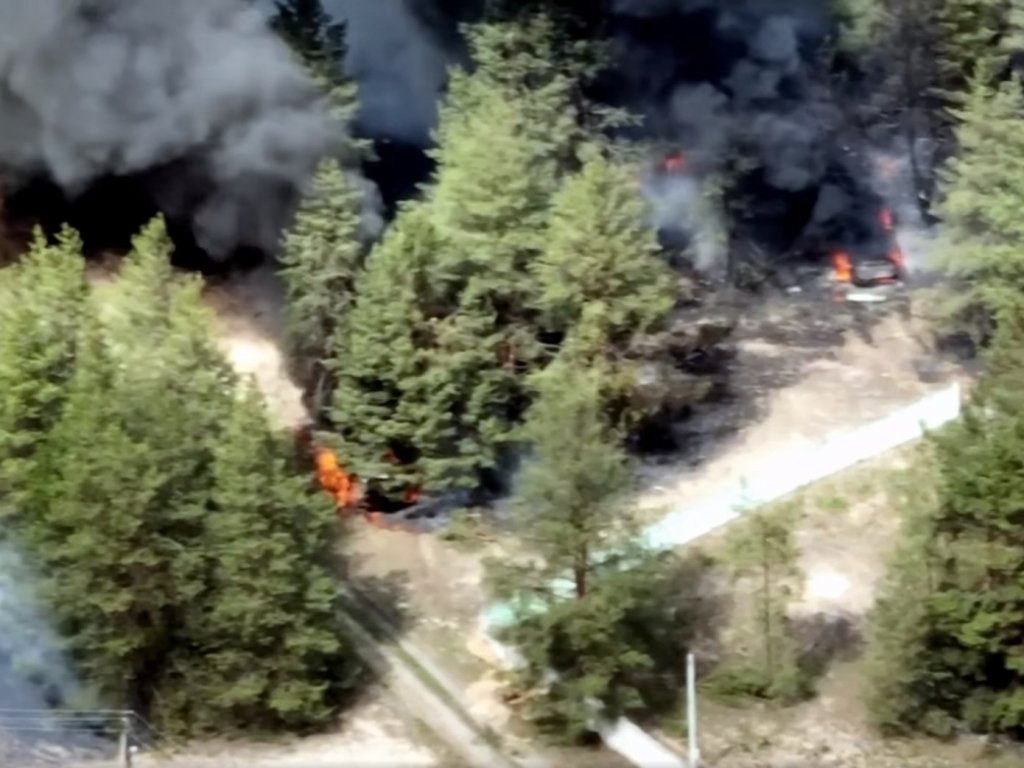 Ukrainian artillerymen showed how jet systems inflict fire damage on the positions of Russian invaders in Donetsk region.
The video of the combat work was published on the Facebook page of the Command of the Assault Troops of the Armed Forces of Ukraine.
According to the enemy's positions, a unit of jet artillery of the 81st DShV Brigade worked in the Donetsk region.
The invaders were hit by 122-mm BM-21 Hail multiple rocket launchers.
"Soldiers of the jet artillery unit of the 81st separate airmobile brigade of the DShV of the Armed Forces of Ukraine continue to inflict daily losses on the Russian occupiers and destroy their equipment," the DShV Command of the Armed Forces of Ukraine said.
Fighting vehicles took up positions and launched rockets at certain coordinates.
According to the video, drones were involved in detecting and aiming jet artillery. One of them recorded the results of the strike on the positions of the Russians.
Burning armored vehicles of the Russian military were recorded, which was located in a wooded area.
BM-21 "Hail" - a rocket-propelled grenade launcher 122 mm. Developed in the USSR, produced on the basis of the chassis of the Ural-375 truck. The system is designed to destroy manpower, weapons and military equipment at a maximum range of 40 km.
Officially , the 81st Separate Airborne Assault Brigade is based in Kostiantynivka, Druzhkivka, Kramatorsk and Poltava - the vast majority in the area immediately adjacent to the combat zone in the Donetsk region.
The brigade was formed after the beginning of the Russian aggression in autumn 2014.
The personnel of the brigade received the baptism of fire in late 2014 - early 2015, during the defense of Donetsk airport and adjacent areas.
Read also:
The Russian command uses the families of the occupiers as hostages - intelligence

Armed Forces went on the offensive in the south of Ukraine - Institute for War Research explains the consequences for the enemy (Map)

Ukrainian paratroopers destroyed a platoon of occupiers from the Pskov region

Russian army soldiers are ready to kill their generals, forcing them to go on the offensive

Mistral MANPADS: Armed Forces tankers began using foreign weapons to cover from the air

The Armed Forces of Ukraine liquidated an employee of the press service of the Russian Ministry of Defense

Reznikov called on the world to officially recognize Russia as a terrorist state

The pink Kalush Orchestra and the Eurovision statuette were sold at an online charity auction

Kadyrovites "presented" ukrainian soldiers BMP-3

The United States has prepared a new batch of M777 howitzers for Ukraine

Gunners of the 28th Brigade "chase" enemy vehicles on landings of Kherson and Mykolayiv regions

The Russian army lost more than 30,150 soldiers and 1338 tanks